Pincho Factory comes to Brickell
Grand Opening location on South Miami Avenue adds to great activity in the area.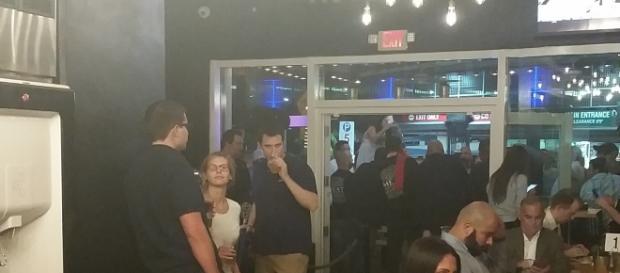 Last night on South Miami Avenue, Pincho Factory opened a new location and gave every customer a free beer with a purchase to celebrate. The location is along a stretch with restaurants and across from office buildings, well lit and with wide sidewalks that, after the inside was packed with hungry people, others waiting for their order spilled into the street talking and laughing either destressing from work or eager to sample the menu. The menu of Pincho Factory is well known to any Miamian "worth their salt" with such delights as the Toston Burger (a juicy burger fit between two fried green plantains), the Fritanga Burger (crunchy fried cheese, creamy coleslaw wedged in a burger), the Egg-In burger and/or the many pinchos (Pan Con Pincho, Steak, Chicken or Shrimp pincho, Pincho entrees).
Miami has an identity outside of "Party capital of the U.S."
It is a crowning achievement for the South Florida area to have such a successful homegrown business. The locations aren't just in "high demand areas", the original location is in a strip mall off of 99th avenue and Bird Road (SW 40th street) in the Westchester neighborhood of Miami-Dade County. They have a location in Orlando on Dr. Phillips Boulevard, in the Pinecrest area of Miami-Dade along US1 and are selling to die-hard Heat fans at the American Airlines Arena during games. Pincho Factory also isn't just known in the South Florida area--they are the 2015 Food Network Burger Bash Champs, rated #37 by Business Insider magazine Travel section on the Top 50 Burger joints in the nation and rated the #11 FastCasual.com innovative restaurant in the nation.
South Miami Avenue/Brickell area is beautiful
All throughout the locale, kids were walking with their order flags, talking and laughing with their friends. Dog owners were casually sipping on their beers while talking with friends and the dogs were waiting patiently. The mix of adults having "adult/grownup conversations" along with family friendly groups lent to the overall atmosphere of the neighborhood itself. South Miami Avenue and the Brickell area along with Wywnood, are the two epicenters of the City. There is a great mix of urban high rises and the reminensce of Old Miami in low rise buildings with spanish tiles. Any Miamian should brave the parking and the traffic in the area to walk around the active streets and just sit for awhile to people watch. #PinchoFactory #BrickellAvenue #FoodNetworkBurgerBashChamps