Xbox Games with Gold for October 2017 revealed
Microsoft revealed the titles included in the Games with Gold that will be offered for free for Xbox One and Xbox 360 users this October.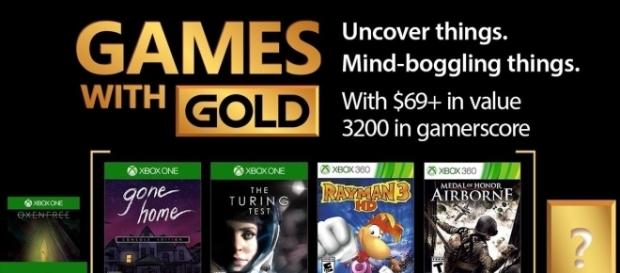 Microsoft recently revealed the line-up of free games for October. Xbox Live subscribers can avail these free titles that are included in the console's #Games With Gold titles. For the upcoming month, there are a couple of fresh Xbox One games and two new Xbox 360 titles will go live.
These are scheduled to be available on either October 1 or October 16. The free title for the Xbox 360 will be backwards compatible. Downloads of these titles will be free for Xbox Live subscribers and will be available in the owner's account library as long as the subscription is active.
Schedules and games
Xbox One users can avail for free the Console Edition of "Gone Home" starting October 1 until October 31.
Another free title is "The Touring Test" that gamers can download [VIDEO]for free starting October 16. The game will be free to download for Xbox Live subscribers until October 31.
Meanwhile, Xbox 360 users can download "Rayman 3 HD" for free starting October 1 until October 31. The popular title "Medal of Honor: Airborne" will also be a free to download the game from October 16 until November 15.
Other details
Both titles available for free on Xbox 360 and included in October's Games with Gold line-up will work on Xbox One through the backwards compatibility feature. Those who are not really into indie titles but would like exciting and bigger games can take advantage of the free titles being offered for Xbox 360 users.
The two games included in the Games with Gold for October are prominent classics.
"Rayman 3 HD" offers crisp, 3D platforming that the popular franchise is known for. On the other hand, "Medal of Honor: Airborne" bring the players back to the World War II realm that is currently ruled by first-person shooter titles.
Meanwhile, the indie title "Gone Home" is one of the top 10 best games of 2013. The title is a walking simulator and most often described by gamers as the most important game released in the past. The game follows the story of a young woman finding it strange and foreign to return to his family. Along the way, she discovers something that significantly changed her and the way she looks at her family.
"Gone Home" was created and developed by The Fullbright Company. It proficiently plays with the player expectations. On the other hand, "The Touring Test" follows the story of the main character Ava Turing. The protagonist tries to solve the problem that occurred on a mission to study Europa, which is Jupiter's moon.
Aside from the Games with Gold titles for October, gamers have still a few days left for September. They can still avail of the free games offered for the month. This includes "Hydro Thunder Hurricane" and "Forza Motorsport 5," which are both available until September 30. On top of that, "Battlefield 3" and "Oxenfree" are still available for free until October 15. #October 2017 Games with Gold #Xbox free games