'Fortnite': Tfue vs FaZe lawsuit looks to be sorted, coming to a conclusion
Don't miss our Facebook page!
Like Blasting News page on Facebook: we will keep you updated with all the latest news.
Sony released its PlayStation 4 Pro after bowing to the demand of fans for a gaming console which would allow players to play games in 4K resolution. The new updated console has been a rage ever since its release. However, a new offer now surfaces from Sony which is quite enticing for Destiny fans. The company revealed that it would soon launch a white colored PS4 Pro console in the market which will be bundled with the digital Deluxe Edition of 'Destiny 2.'
Sony releasing white PlayStation 4 bundled with 'Destiny 2'
On Monday, July 10, Sony revealed that preorders are now open for a limited edition white Ps4 Pro bundled with the upcoming multiplayer game, 'Destiny 2.' The game in this package would not contain the base content but will also have codes for its future Season Pass expansions along with a Digital Content Pack.
These are the exact items which are offered to players who purchase the Digital Deluxe Edition of 'Destiny 2.'
However, the Digital Deluxe Edition will also contain a legendary sword, a legendary emote and an emblem inspired by the Cabal Empire. It is not known whether the 'Destiny 2' copy that is bundled with the white console will also come with the same rewards. Sony has also not revealed whether it would sell the white PS4 Pro as a standalone product without bundling it with 'Destiny 2'.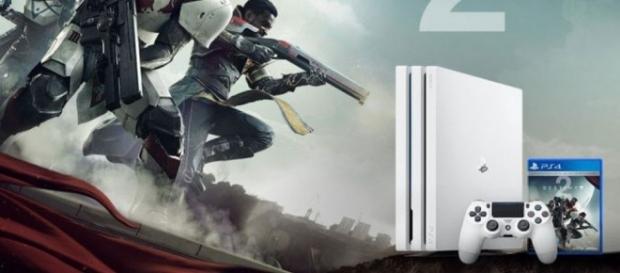 Pricing of the new white console
The digital deluxe edition of 'Destiny 2' is priced $99.99, while an ordinary black PS4 Pro console bears a price tag of $399. The new Glacier White console bundle containing the 1 TB PS4 Pro along with the digital deluxe edition of the game will retail for $449.99. This means that Sony is offering its players savings of around $50. The console bundle is priced $549 in Canada.
It must also be noted that the Glacier White option for the PS4 Pro is only available through this bundled offer and cannot be picked up separately.
This is the first time that Sony has offered the PS4 Pro console in any other color option other than in jet black. The company followed the same strategy upon the release of Destiny when it offered a Glacier White variant of the PS4 bundled with the game to players. Even though the glacier white version was not sold as a stand-alone console at first, it was later sold separately as well in Europe only.
It remains to be seen how well fans respond to this new option for the PS4 Pro and whether the offer proves beneficial for fans and Sony alike.
People who are currently planning to purchase the console may want to wait for the limited edition as it gets them both a unique looking PS4 Pro along with the digital deluxe edition of 'Destiny 2.'
Click to read more
and watch the video