'Crash Bandicoot N. Sane Trilogy' more evidence points its coming to Xbox One
The remastered classic 'Crash Bandicoot N. Sane Trilogy' tops the UK charts while new proof surfaced that it will be released in Xbox One soon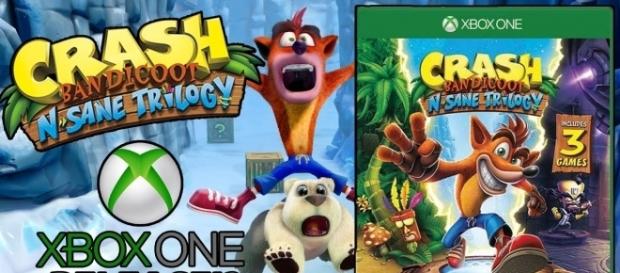 "#Crash Bandicoot N. Sane Trilogy" spent four out of its five weeks as the number one game in the UK. The feat achieved by the remastered game is impressive considering that it is exclusively released on PlayStation 4. With the game's unprecedented success, there are speculations now that it will also be released on the Microsoft Console, Xbox One.
Proof
There is a lot of evidence that could back the claim that the popular PlayStation 4 exclusive game would soon be released for Xbox One in the later part of this year. Previously, there was a post by PlayStation Ireland, a listing from a Hungarian retailer, and a confirmation from the booth representative during the PAAX East 2017.
Apart from those, there is new evidence that will prove that remastered title will not be any more a PS4-exclusive game.
Recently, Kara Zisa, one of the artists in Vicarious Visions uploaded a video of the game. Interestingly, the footage also reveals prompts of an Xbox One controller. Since Sony's console does not support Microsoft's controller, the only logical thing to conclude is that it is highly likely that the game is going to be released on other platforms, potentially PC and Xbox One. The official-looking video was taken down. Fans could speculate that it could be fake, however, the mere fact that it was taken down could be an indication that it was legit.
Other details
As mentioned earlier, there was a previous listing of "Crash Bandicoot N. Sane Trilogy" #Xbox One version by a Hungarian retailer and it was revealed that it will be released on December 8, 2017. The release window is a strategic schedule if Activision would bank on holiday sales of the game.
Moreover, a release on a different platform at the given date would give the game a strong exclusivity window for PlayStation 4.
UK feat
Meanwhile, the remastered classic is enjoying its fourth week as the top game in terms of physical sales in the UK. It has beaten "Splatoon 2" for two consecutive weeks already. Last week the game almost lost the top place to "Splatoon 2" when it only recorded 700 units difference. Following these games at the third spot is Rockstar Games' "Grand Theft Auto V." Taking the fourth, fifth, and sixth spots are games from Bethesda namely "Fallout 4," "Doom," and "Dishonored 2."
"Crash Bandicoot N. Sane Trilogy" is currently a PlayStation 4 exclusive game. Hopefully, the speculations would be proven true so that players using other platforms could also enjoy the game. #Top game in the UK