Taco Bell is about to change the way we think of fast food
Tacos and tequila anyone? Taco Bell is rumored to be opening new restaurants that will be serving alcohol.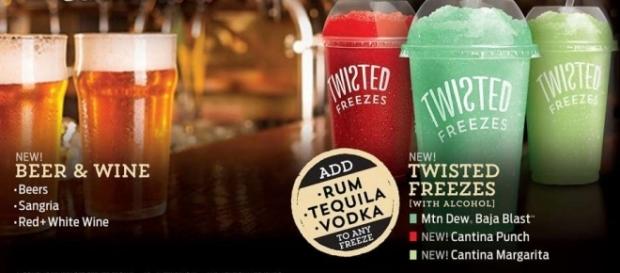 Who doesn't love #Taco Bell? Its cheap and overall it tastes pretty darn good. Not to mention, it is basically the ONLY place on Earth we can find Baja Blast Mountain Dew. Well, Taco Bell is about to step it up. Fox News reports that our favorite late-night taco stop is going to be opening around 300 new locations that will be serving #Alcohol. Amazing, right? Unfortunately, we may have to wait a few years for this to happen. Taco Bell is hoping to open these stores by 2022. Honestly, though, I think this one may be worth the wait. These new locations will have a similar cantina-style to Chipotle, but it seems as if their selection of beverages will be a little more extensive.
Taco Bell is looking to gain more customers in urban areas by creating a fun atmosphere with similar food at a great price (and some adult drink options). I think its safe to say that the taco moguls are onto something with this idea.
What can you expect (if you're over 21) ?
Our favorite Mexican chain has announced that they are looking to serve their patrons a wide variety of alcoholic beverages; that way we can all find a drink to enjoy alongside our Crunchwrap Supreme. These locations will serve the usual variety of beer, wine and sangria, but they also plan to offer some more exotic options. Taco Bell is planning to take the classic slushy to an all new level. They are calling them "Twisted Freezes" and they can be made with rum, Tequila or vodka. We can only hope that they can incorporate Baja Blast into one of these mouth-watering slushies.
Just make sure you are willing to spend more time eating at the restaurant, seeing as they will be serving up the good stuff! Hopefully, the chain will keep these new locations open late, so that when we need a late night snack, we can get a taco and some tequila!
Can it compete?
Taco Bell is taking a huge leap from fast food service to a self-serve sit-down restaurant, and it sounds great. However, they may find difficulty competing with the loyal customers of Chipotle. Chipotle has acquired its customer's due to their quality food standards and their stance against GMO's. While Chipotle did suffer a massive revenue loss of about 600 million dollars in 2016, they still remain one of the largest and most popular Mexican restaurant chains in the United States. In order for Taco Bell to compete, they are going to have to offer some new and exciting twists on the cantina-style restaurant experience. Perhaps their Twisted Freeze will be just that. How do you think Taco Bell will compete with Chipotle? #Tacos