How to elevate your pancakes for breakfast
Three ways to get creative with your breakfast and drop the simple maple syrup alternative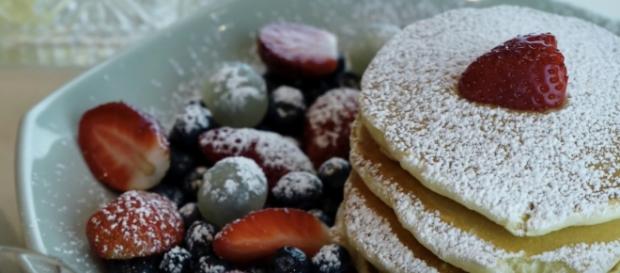 You may be the kind of person that enjoys a simple pancake that is fluffy with a bit of Maple Syrup and a teaspoon of butter. But the reality is that breakfast would be so much more fun if you started adding elements to this blank canvas.
Plus, if you have children, you want them to be excited about eating healthy and trying new foods, rather than getting stuck with the usual, plain pancakes. Since pancakes are a staple in the American household, it is the perfect thing to use to get creative and express your artistic side -- adding flavor to boot.
The colorful fruits
Fruits and vegetables are the healthy choices to experiment with.
You don't have to add potatoes to the batter or even add beets to make purple pancakes if you want to keep it simple. But you can definitely explore many different flavors that elevate the eating experience for yourself or your child. For example, use fruits such as round grapes, slices of orange, strawberries, and even raspberries to create fun patterns and designs on or around the pancake.
You can also create a rose or a flower visual by slicing strawberries and placing them carefully in circles so they cover the entire pancake. You can also cut an orange into boats and place them around the pancake to create a sun design.
#Repost @livehealthywithlina (@get_repost)
・・・
who says eating healthy can't be delicious and tasty? Try this Gluten free pancakes 🥞 i used… pic.twitter.com/OJDbnPTyKf

— Anthony's Goods (@anthonysgoods) August 17, 2017
Chocolates
If you are the person who likes a bit of chocolate once in a while, you will be pleased.
Chocolate and Pancake Batter go well together. While it may be natural to go for some cocoa powder and making chocolate pancakes for your children and yourself, you may want to simply use pieces of high-quality chocolate to put on top of the pancake.
If you want to be very creative and create a dessert-like treat for the kids, consider melting dark, milk, and white chocolate and then do a drizzle of each kind on the pancake. You may also want to add a few pistachios on top to add some color.
Fluffy vegan peanut butter pancakes with chocolate chips! Served with drizzled peanut butter and melted chocolate. https://t.co/OqBPOGqFTp pic.twitter.com/dofQdZNiOM

— Loving It Vegan (@lovingitvegan) August 8, 2017
Decorations
The third option for your pancakes requires a bit more time and effort. Add some pancake batter into a squirt bottle and put a small tip on the bottle. On a medium-hot pan, create a design that you would want, but be quick. The pancake batter cooks quickly and you don't want to get stuck with a burnt pancake.
For example, if you want to do a heart, quickly outline the heart using a squeeze bottle on the pan and fill it in the heart with pancake batter. Wait about 10 seconds before creating the circle around the heart and then fill in the rest. This will give you a round pancake with a heart in the middle. Once the pancake is done, consider adding some pink icing or whipped cream.
Come to the dark side we have pancakes. #MayTheFourthBeWithYou #StarWarsDay #buddhabellyplate #pancakes #flavourdesignstudio pic.twitter.com/Y269D2tU7P

— Élan McPherson (@flavour_design) May 4, 2017
What do you do to elevate your pancakes?
Click to read more
and watch the video
or