Five remarkable facts that will make you love A Star Is Born even more
French Tune inspired Bradley Cooper to end his quest for Ally with Lady Gaga.
1
Bradley Cooper heard Lady Gaga sing and chose her for the lead role
Director Bradley Cooper saw Lady Gaga sing Edith Piaf's "La Vie en rose" and not only included the song in his film but also finalised Lady Gaga to play the character Ally in "A Star Is Born."
A Star Is Born is now projected to debut at #1 on the Billboard 200 with sales of 180K-200K. This will make Lady Gaga the only female to score 5 #1 albums this decade and give Bradley Cooper his first entry and #1 too. pic.twitter.com/NjmeYDthjo

— Lady Gaga Facts (@LGMonsterFacts) October 8, 2018
2
Bradley Cooper and Lady Gaga became great friends
In the run-up to release the film Lady Gaga and Director Cooper often talked about their similar Italian –American upbringing. The pair had amazing chemistry and soon became great friends of one another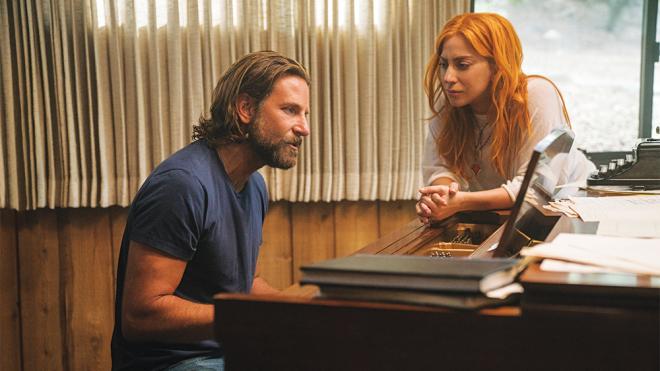 3
The songs were written during the shoot
The songs of "A Star Is Born" were written during the shoot and one particular song "I Don't Know what love is" was written by Lady Gaga in an emotional state after the cop bar scène. The song was later completed by Lukas Nelson who is the son of legendary country singer Willie Nelson. Lukas wrote and produced some songs for the film
4
All vocal performances in the movie are real
Lady Gaga's co-star did not have any singing experience, but she convinced him to record the vocal performances when they were shooting the scene, and there is no lip-syncing to pre-recorded tracks as commonly done.
5
Musical moments were filmed in real venues
Many of the scenes and musical scenes were shot in real venues like the Glastonbury festival
This news article has been verified through:
https://www.rollingstone.com/music/music-news/lady-gaga-bradley-cooper-look-what-i-found-video-a-star-is-born-734956/
https://www.forbes.com/sites/scottmendelson/2018/10/09/box-office-lady-gaga-and-bradley-coopers-a-star-is-born-grosses-huge-6-7m-monday/
Click to read more
and watch the video
or