Gangster violence at Cape Town schools
Scores of teen gangsters have infiltrated all the schools in Cape Town, South Africa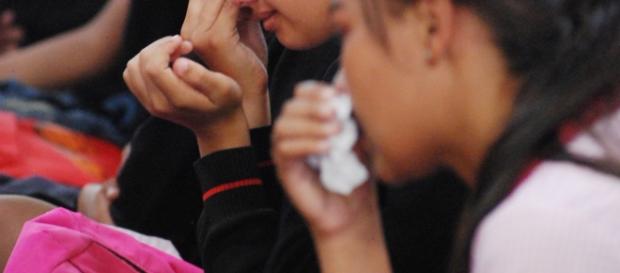 It was another statistic this month (February 2017) when a schoolboy was stabbed and rushed to the hospital for emergency treatment. At a Mitchells Plain high school, a gangster student was shot dead by rival gangsters. At Herald Cressy high school in the city, an alleged gangster boy of 15 in grade 10 struck his teacher with an iron rod. The teacher was taken to hospital for serious injuries. At another school, after the teacher slapped a boy several gangsters jumped over the school fence and broke the teacher's leg and arm with baseball batons. At Kensington high school a stray bullet struck a 15-year-old girl through the neck killing her instantly.
At Summit primary school in Hanover Park, a stray bullet struck a little five-year-old girl. The bullet penetrated the little girl's back, lung, and kidney. Doctors are still doing tests to determine the extent of the bullet. In Manenberg an eight-year-old boy is crippled as a stray bullet struck his spine. The boy is in a wheelchair and cannot play games with his mates any longer...
No turning back
A teacher who declined to be named said he discovered school boy gangsters are deeply involved with professional gangs. The school boys are recruited by bigger gangsters. They do this so that the smaller boys who are underage do their dirty work. Gangs use underage boys to commit murder since the law of the land won't persecute nor imprison them. If the younger boy gangster refuses to shoot someone he will be shot dead by his own gang members.
Once he joins a gang there is no turning back. Wayne le Roux the Cape Town metro police chief says young kids are trained by the older gangsters to shoot a gun and how to kill someone. JP Smith the mayor of Cape Town's council member of safety and security says the city of Cape Town is trying to prevent school children from joining gangs. He says several schools have become so violent and being profoundly gangster-ridden that the city had no alternative but to place a metro police member inside the school night and day in order to prevent any gang warfare. The city also has initiated and launched alternate programs to keep the school children off the streets. The American FBI and the CIA are involved in training the city of Cape Town's metro police members. Smith says the program is considered successful.
Population control
A social worker Amelia September from Manenberg says alternate programs is not really a preventative measure. The origin of gang violence is due to human engineering.
Frans Fanon a post-colonialist theorist wrote in his book Beyond the wasteland that the colonialist creates a pot of violence and manages the violence. he says this created violence in African townships is to keep the natives busy and occupied so he won't be a threat to the white man who stole his land and resources. If the model of Fanon is applied to the townships in Cape Town where mostly colored people are like soldiers killing each other night and day then it can be observed Fanon's theories are correct. He theorized the way the colonialist constructed the roads, the small houses and education had an effect on the mind. #Africa