Watch the video of the news article
Don't miss our Facebook page!
Like Blasting News page on Facebook: we will keep you updated with all the latest news.
While Thanksgiving Day and Black Friday sales have come and gone, there are still deals to be had for online shoppers. That's because Cyber Monday 2017 deals will be here on Monday, November 27th, with many online retailers offering a full week of sales. That includes the juggernaut Amazon, who will give super low prices on their top tech gadgets. Among them are the popular new Amazon Echo Show, Echo Dot, Kindle, Fire HD tablets, and the Fire TV sticks. Here are the latest details on the big Amazon Cyber Monday 2017 sales on their top tech toys.
Savings on Echo, Fire gadgets
The big savings on Amazon's lineup of Echo voice-controlled interactive speakers will be a big part of their Cyber Monday sale. These were on special for the past Black Friday 2017 deals week so those customers that missed out on them have a chance to pick up the items they may have wanted but missed out on.
The Amazon Echo Show is one of the newest innovations for the retailer. While the previous Echo and Echo Dot were simply speakers, the Echo Show features a video touchscreen as part of its setup, allowing for even more interaction and information display.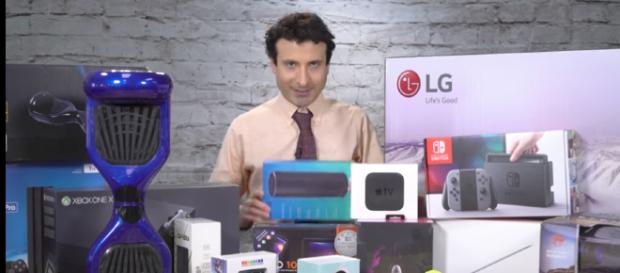 The Echo Show is on sale for $179.99, which is a hefty savings from its original price which totaled over $200. There is also an Echo Show eBook user guide being offered for a free download for the day.
Download the Amazon Echo Show User Guide for free through Cyber Monday! https://t.co/MD6cUVBbVe #echoshow #ECHO #amazon #alexa #affiliate #FREE pic.twitter.com/C9OaqZBGhB

— Holiday Gift Nation (@HolidayGiftNat) November 26, 2017
The Echo Dot and all-new Echo (2nd generation) are both $20 off as part of the Amazon Cyber Monday sale.
In addition, customers will find the Fire Tv Stick, regularly $39.99, for just $24.99, as well as deals on various Kindle Fire tablets and Kindle e-Reader devices the company specializes in.
Other Amazon deals
The online retail giant isn't just offering sales on their own products, but there will be many other items on discount across the various site categories. These include everything from clothes, to tools, to toys, TVs, cameras, outdoor items, kitchen items, and more.
Customers looking for that bigger, better television just might find the one they want in Amazon's sale. There may even be deals that rival those of the Black Friday 2017 sales.
Amazon customers may have also received a special email on Sunday night with the option to shop early Cyber Monday deals. Among them were special "Early Access Deals with Alexa" such as the Vitamin blender, All-Clad nonstick cookware, a Netgear router, an Aerogarden Harvest Wi-Fi kit, as well as all of the aforementioned deals on Echo products, Fire TV, and Kindle tablets.
These deals are available only by ordering as an Amazon customer using Alexa voice to order through a device.
Customers can shop all of the latest Amazon Cyber Monday deals by visiting the official website.
Click to read more
and watch the video