Leaked screen protectors of next Pixel phones gives a glimpse of the handsets
It is also posited that the Pixel 2 will come with substantial bezels.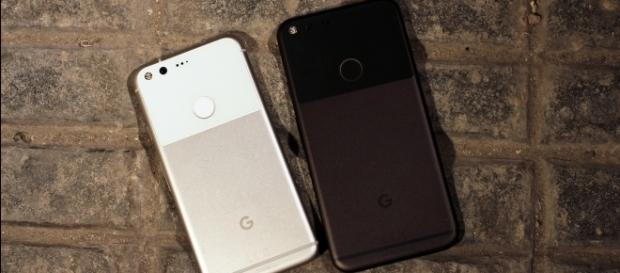 Google is all set to unveil the Pixel 2 and Pixel XL 2 on October 4 this year. Even though the company has tried to keep most of the features of the handsets under wraps till the official unveiling, some information has nonetheless trickled out. For instance, it is speculated that Google has assigned HTC to design the smaller Pixel 2 device, while LG has been allocated to come up with the design of the bigger Pixel phone. It is also posited that the Pixel 2 will come with substantial bezels, which has once again been indicated by a leaked picture allegedly belonging to the screen protectors of the two upcoming Google smartphones.
What does the leaked picture reveal?
Previous rumors have revealed that the Pixel 2 may not look too different when compared to last year's Pixel. The leaked image shows that the Screen Protector for the impending handset comes with thick bezels on the top and bottom of the display.
The speakers above and below the screens may be the primary reason why the Pixel 2 may sport such a high amount of bezels.
This design choice is not on par with most of the recent premium ranged handsets. Samsung, LG, Apple, Huawei, and many others have all released handsets this year which sport minimal bezels. However, Google and HTC seem to be satisfied with the smaller handset coming with the thicker bezels. This design choice may adversely affect the popularity of the Pixel 2 among consumers.
On the other hand, the leaked picture also allegedly shows off a Pixel XL 2 screen cover. This one shows that LG is indeed designing the Pixel XL 2 on the lines of its own LG V30 phablet. The larger display is possible on the Pixel XL 2 due to the substantial decrease of the bezels. The picture hints that the impending handset will be similar in looks to other edge-to-edge handsets without bezels in the market today.
However, one must also note that the leaked picture may be a fluke. There is no way to confirm the authenticity of the image that surfaced online. So, fans must take the information gleaned from the leak with a grain of salt.
Expected specs of the two Pixel phones
The Pixel 2 is expected to sport a 4.97-inch display, while the Pixel XL 2 will likely come with a 6-inch screen. Both handsets should be powered by the octa-core Snapdragon 835 chipsets. The Pixel 2 may sport 4 GB of RAM, while the Pixel XL 2 will likely come with either 4 GB or 6 GB of RAM. These two smartphones will be the first devices to come with Android 8.1 Oreo pre-installed.
Click to read more
and watch the video
or