iPhone 8 pre-order details, all you need to know.
Pre-orders for the new iPhones in the United States will start on September 15.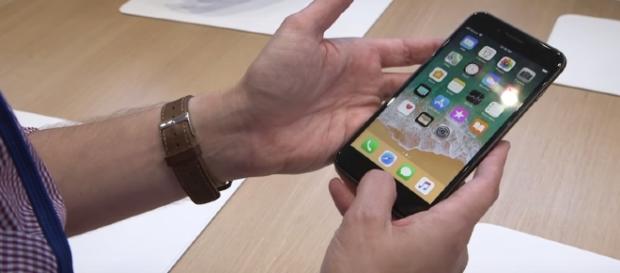 Apple recently unveiled three new iPhones during its launch event at its new Steve Jobs Theater. The iPhone 8 and 8 Plus feature a number of significant upgrades, such as wireless charging. However, the flagship device, iPhone X, will come along with a higher-end hardware as well as a new design.
Apple will kick off the pre-orders for its iPhone 8 on September 15 and the device will start shipping on September 22. Apple enthusiasts can place their pre-order via the company's iPhone Upgrade Program.
According to MacRumors, the Cupertino based tech titan recommended Apple fans with existing iPhone to utilize the Apple Store app so they can get their iPhone 8 pre-order approved through the payment plan program. This can be a way for potential buyers to reserve an iPhone 8 before stocks run out. The pre-approval process via the Apple Store app ends on September 14.
As reported by CNET, the 64GB model of the iPhone 8 costs $699, while the 256GB variant costs $849. The 64GB model of the 8 Plus will have a $799 price tag, while the 256GB variant will cost $949.
Meanwhile, major carriers and retail companies will officially start the pre-orders for the iPhone 8 on September 15. Retail outlets, such as Verizon, Best Buy and AT&T, already provided a signup form on their websites that will let a person know when pre-orders start. Nonetheless, Apple enthusiasts who want to pre-order the iPhone X will have to wait until October 27. The iPhone X will hit the shelves on November 3.
AT&T will also feature a unique offer for the new smartphones. AT&T subscribers who will purchase Apple's new mobile device are entitled to purchase a 32GB iPad for $100.
Trade-in deals
The Verizon telecommunications company will offer trade-in deals as well as an unlimited data plan for the iPhone 8. Trade-in value for the iPhone 7 and 6S-series will start at $300, while the iPhone 5 and Samsung Galaxy S5 will start at $100. However, Sprint CEO Marcelo Claure made it known that when a person trade-in an iPhone 7, the firm will cover half of the price of the iPhone 8.
Specs of the smartphones
Nevertheless, the iPhone 8 and 8 Plus smartphones are powered by the latest A11 Bionic processor, consisting of two high-performance cores as well as four low-efficiency cores.
On the camera front, the handsets will feature a 12MP rear camera and a 7MP front camera. The mobile devices will also come along with a Qi wireless feature and an IP67 certification for dust and water resistance.
Click to read more
You will watch a video to read the news
or