Google Pixel 2: A brilliant camera phone with cutting edge specs and features
Leaked images show off select chunks of the device's front and back panel.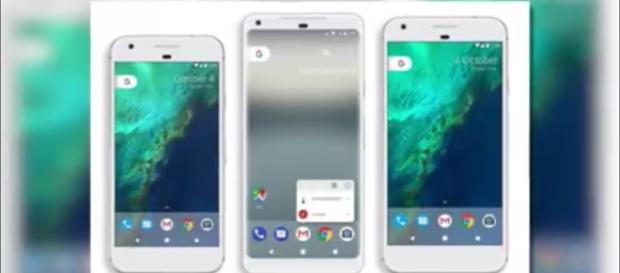 The launch-date of Google's Pixel 2 and XL 2 is drawing closer. An increasing number of rumors and speculations suggesting different things are making it online as well. The latest one is in the form of live images that reveal the front and back panel of the alleged Pixel 2 smartphone. Through this, it has been confirmed that the front camera will be placed in the same location as last year's Pixel. The handset in the images also holds a strikingly similar design as #Nexus 6P, as noted by Tech Radar. Google's 2016 Nexus 6P consisted of two front-facing speakers. The smartphone in the #Leaked pictures also features the same specification.
Marked with cutting-edge specs
The rear panel consists of the fingerprint scanning feature, located next to the single camera sensor module.
This is further accompanied by an LED flash right next to it. One big difference in the handset is the size of the sensor. In comparison to last year's Pixel smartphones, its successor appears to be carrying a slightly larger sensor. It's also oddly protruding along with the fingerprint scanner. According to another report by 9 to 5 Google, both the handsets will feature the IP68 certification, making them dust and water resistant. The source quoted by the publication also stated that the smartphones would arrive without a 3.5mm headphone jack.
Google hopes that it will be able to make up for the missing feature through the integration of its Android 8.0 Oreo OS. As noted by Tom's Guide, there's a high possibility that the company might end up debuting Google Assistant headphones along with their flagship.
They are expected to follow Apple's footsteps as even they had done the same when iPhone 7 was introduced in the market.
Price of the phone
According to a report by Android Headlines, prolific leaker Evan Blass claims that Google is preparing to unveil its Pixel 2 and XL 2 on October 5. This doesn't appear to be highly unlikely as the company had introduced its predecessor's right about the same time last year. As far as the pricing bit is concerned, sources close to the matter hint that the upcoming handsets will be slightly more expensive in comparison to last year's devices. Google's Pixel and XL ranged between $650 and $780. It is safe to assume that 2017's Pixel smartphones will cost anywhere around $800. They will be the first to come running on Android 8.0 Oreo out-of-the-box, which is one of the primary selling points. #Google Pixel