Get ready for Epson's new Home Cinema LS100 projector
It features a laser display that reinvents home high definition viewing experience for movies, video, TV, and gaming.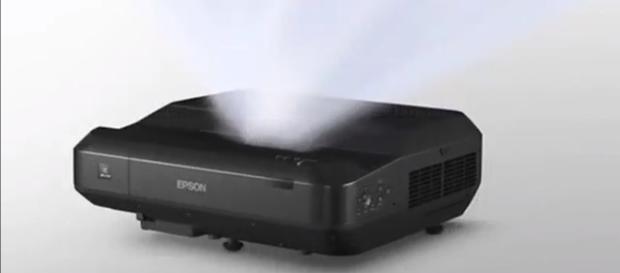 Amidst all the mixed reality tech using projectors, it seems like the good old-fashioned Home Cinema remains relevant. Chinese tech giant Xiaomi is set to release a laser projector replicating the system for movie theaters for less than $1,500. Optoma has already introduced its 4K projector for $2,000 back in June. Industry heavyweight Epson is also back in the game with its new Home Cinema LS100, which features an "ultra short-throw" Laser Display. Basically, the 120-inch, full HD picture remains whole and in tact regardless of the projector's distance from the wall.
Bigger is better
When it comes viewing experience, bigger always seems to be better. With television sets growing in size and shrinking in price over the years, perhaps opting for a bigger and more affordable solution is a good alternative.
Epson kept this in mind when they introduced the LS100, a special kind of projector that is designed to sit close to the screen or wall and not halfway across the room. While the typical projector requires some distance from the projected space, the new model relatively saves that space. This means viewers can walk around without disrupting the screen with their shadows.
In addition, it features an incredibly bright display, so there is no need to turn off all the lights for better visibility. Before, it would take some adjustment just to get the perfect combination of brightness in the projector and light in the room. In terms of size, Epson America's senior product manager for projectors Rodrigo Catalan emphasized that the Home Cinema LS100 is made for people to enjoy life-size HD images for up to 10 feet diagonal. Take note that this is with the lights on and the shades open.
Other features
The new projector is powered by Epson's innovative laser technology and has 4,000 lumens of white brightness and equal color. The 100 percent color brightness gives an extraordinary image performance. The contrast ratio for deep blacks is an impressive 2,500,00:1. This high-speed contrast control allows both bright and dark scenes for optimal viewing. With the Instant Off feature, there is no lag time for warm-up or cool down as it turns off within 5 seconds.
The technology offers up to 10 or more years of worry-free operation. For the price of $3,000, it is clearly not for consumers who want a typical or even high-end television. Due to the fact that the projector does not come with a screen, it is actually a lot more expensive than a TV.
The product targets audience who prioritize sheer size above all else and is willing to spend for the big and bold cinematic experience.
Click to read more
and watch the video
or