Apple Watch Series 3 gets accidentally listed online, does it confirm launch?
The next-generation Apple Watch was recently spotted listed online on Verizon app.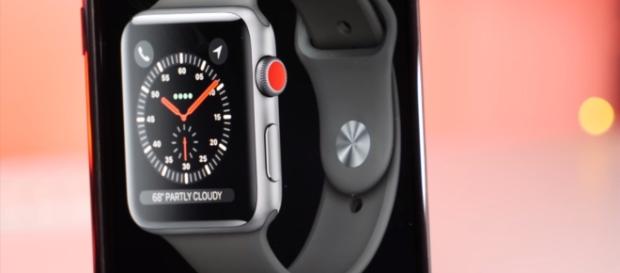 Apple fans are impatiently waiting for the launch of the special 10th-anniversary iPhone edition, possibly dubbed the iPhone X. The new iPhone is highly likely to get unveiled at the Apple event scheduled to take place on Tuesday, September 12, at the company's new Park Cupertino campus in California. The event will start at 10 AM Pacific Time.
The next-generation iPhone will undoubtedly be the star of the launch event. Some of the other Apple products which are expected to get unveiled alongside the new iPhone include a 4K Apple TV, a new iPod Touch, a final version of iOS 11 and not to forget the Apple Watch Series 3.
Series 3 Watch gets accidentally listed on Verizon app
Talking about Apple Watch Series 3 [VIDEO], a Reddit user recently noticed the Verizon app listed the Series 3 watch in one of the configuration screens for adding a device, BGR reported.
The accidental leak by Verizon certainly gives a strong hint that the Cupertino-based tech giant will brand its upcoming LTE-enabled Watch as the "Series 3."
However, according to 9to5Mac, there is a possibility that Verizon is just preparing its backend for the addition of the next-generation #Apple Watch, and it has put Series 3 as the placeholder product name until the official reveal happens. Interestingly, the iOS 11 GM code only mentioned the iPhone X, iPhone 8 and iPhone 8 Plus and nothing about the Series 3 Watch. It remains to be seen whether or not we will get to see a new Apple smartwatch unveiled on Tuesday.
What to expect from the next-gen smartwatch
#Apple Watch Series 3 is rumored to feature an embedded electronic LTE sim that will let users access the internet on the device, send as well as receive messages and stream tunes from Apple Music without the need of a companion iPhone.
Ming-Chi Kuo, an analyst with KGI Securities, has predicted that Apple might bring out the new smartwatch in LTE and non-LTE versions in two size configurations- 38mm and 42mm. The device is rumored to get a micro-LED display and run Apple's latest wearable operating system WatchOS 4.
For those who want to live stream the Apple iPhone launch event which begins at 10 AM Pacific Time on Tuesday, September 12, they can head to Apple's official website. It is to be noted that users can live stream the event only when they have access to an iPhone, iPad, or iPod touch running an up-to-date version of Safari on iOS 7, or a Mac with Safari 6.0.5 on macOS v10.11 or later. #Apple Launch Event