Surface Phone with unique design, powerful processor might roll out next year
The Surface Phone will be pitted against Apple's iPhones once it has arrived.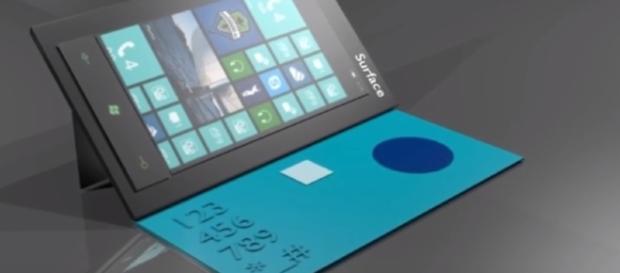 While Microsoft has yet to announce the existence of the highly anticipated Surface Phone officially, TechBlorge reported that the tech company might launch the smartphone next year. It seems that the Redmond, Washington based tech titan will roll out a stylish mobile device that would compete with Apple's iPhones.
Microsoft's Surface Phone has been the talk of the handset industry, with rumors, speculations, and anticipations mounting up on the internet for more than a year.
According to News 4C, with the Surface Phone's arrival, Microsoft will compete with Apple in the smartphone universe. The rivalry stemmed from the leaked photos of the patents that the tech company applied for, which claimed that Microsoft would roll out a foldable mobile device.
No one can say for sure yet whether the new handset Microsoft handset will be able to compete with Apple's iPhones. Nonetheless, Learn Bonds reported that Microsoft's Windows 10-powered handset would be a strong competitor to the iPhones. The smartphone is expected to come along with a powerful processor, productivity-focused apps and a unique design. Microsoft's upcoming handset would be more than just a smartphone. Microsoft CEO Satya Nadella made it known that the company is interested in producing more handsets, but it will not look like the mobile devices that are available on the market right now.
Microsoft's much-awaited Surface Phone is expected to be available in three models, an enthusiast variant, a business edition and a consumer edition. The base model of the smartphone is expected to arrive with 2GB of RAM and 32GB of internal storage, while the enthusiast edition will boast 4GB RAM and 64GB of built-in storage.
The business version will come along with 6GB RAM and a 128GB of internal storage.
The higher-end model is expected to feature a 5.7-inch FHD display and will be powered by Qualcomm's Snapdragon 835 system on chip (SoC). The other two variants will come with Snapdragon 820 or Snapdragon 821 chipsets.
Camera specs of the device
On the camera front, the mobile device is expected to come with a 20MP rear camera with a Carl Zeiss lens. The front-facing camera is anticipated to arrive with an 8MP.
Smartphone with Win32 apps support
Microsoft's handset will be a productivity-focused device, which will offer a native Win32 apps support. If the tech company makes the smartphone run on Win32 apps, the device could push some Android and iOS users to move to the Windows 10-powered smartphone.
Click to read more
and watch the video
or