SpaceX's first massive Falcon Heavy rocket to launch in November says Elon Musk
Elon Musk invites people to witness the maiden launch of Falcon Heavy in November.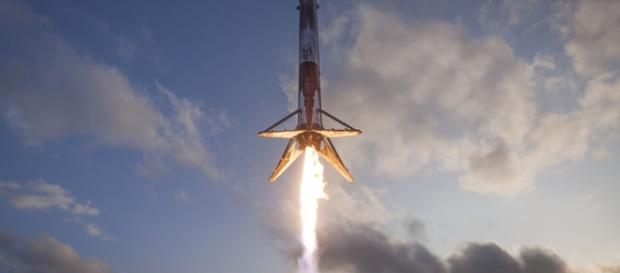 SpaceX is ready to launch their first mega rocket. The massive Falcon Heavy is set to blast off into space on its maiden launch.
SpaceX CEO announces Falcon Heavy launch
Elon Musk took social media including Twitter and Instagram to announce the launch of SpaceX's massive rocket. He wrote on Twitter that Falcon Heavy is scheduled to make its first voyage into space sometime in November. However, Musk did not give a specific target launch date. Instead, it has been confirmed that the massive rocket is anticipated to take off from NASA's Kennedy Space Center in Cape Canaveral, Florida, specifically from fly Pad 38A. The pad is being leased by SpaceX from NASA.
The pad is witness to many of SpaceX's launches including the Falcon 9 rocket releases.
The Falcon Heavy is a massive rocket. It stands at a staggering 230 feet height (about 70 meters). The heavy rocket is capable of lifting up to 54 metric tons of payloads as it cruises in space at a low-Earth orbit. Meanwhile, the huge rocket can launch with at most 22 metric tons of weight into a geostationary transfer orbit. According to representatives, SpaceX's rocket will be on the roster of the most powerful U.S.-built rocket ever since the Apollo-era Saturn V moon rocket of NASA.
SpaceX's latest rocket is inspired by the Falcon 9 series. In fact, Falcon Heavy uses two Falcon 9 units in its first stages. The Falcon 9 units were attached to the new rocket's central core. This mechanism makes the new rocket a Falcon 9 in itself.
Similar to its predecessor, the Falcon Heavy is expected to be able to land back into its staging is on Earth and is capable of a relaunch. The massive rocket is specifically engineered to be reusable.
Elon Musk says rocket launch could fail
CEO and co-founder Elon Musk have warned people that the launch of SpaceX's Falcon Heavy might not turn out as successfully as expected. Earlier this month, the CEO has dampened public expectations during his talk in the International Space Station Research and Development conference in Washington, D.C. last July 19.
The CEO said that there is a big likelihood that Falcon Heavy will not be able to make its way to orbit. During the conference, the SpaceX CEO said that his only hope is that its rocket can make its way to space and fly high enough to not cause any damage to its pad. Musk said that being able to preserve and reuse the pad after the launch is a success in itself. The CEO admits that designing and bringing the rocket into reality was harder than he thought but he is positive that it will prove itself as a worthy vehicle. Musk invites people to witness the massive rocket's maiden launch and guarantees that regardless of its results, the event will be exciting.