Samsung Galaxy Note 8: Here's everything about the phablet
Live photos of a Galaxy Note 8 dummy unit have shown up online recently.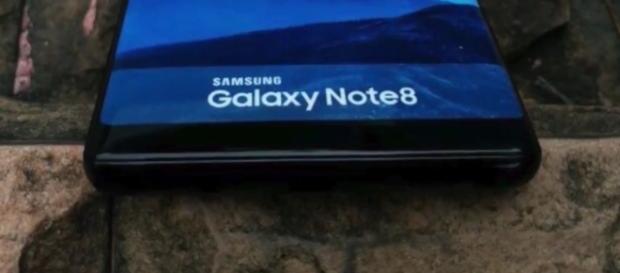 The upcoming Galaxy Note 8 holds a lot of importance for Samsung, as it marks the company's ultimate comeback in the smartphone industry. The phablet device is expected to see daylight on August 23 at an event titled, 'Unpacked,' and just ahead of the launch, added information regarding the smartphone has surfaced online. This, along with the previously-leaked speculation, has been compiled in one place in order to give the users an idea of what can be expected.
Here's the display details
According to a report published by TechRadar, the smartphone will pack a 6.3-inch QHD+ Infinity display – just like the one found on Galaxy S8 and S8 Plus smartphones.
The device's display is also rumored to extend support for 4K video content streaming. One of the main reasons why the device is coming along with 4K resolution is because the company wants to make the device compatible with Samsung's Gear VR headset. The flagship will probably feature a 1,440 x 2,940 pixels resolution, and an aspect ratio of 18:5:9.
Design Processor and battery
The Galaxy Note 8 is going to look a lot like the Galaxy S8 and S8 Plus, with a curved-glass front and back appearance, which is also tagged with a camera bump on the back.
The smartphone will feature a bezel-less look, with a cut out for a dual Rear Camera system on the back. The device will probably come with another feature consisting of a fingerprint scanner on the rear. In terms of dimensions, the smartphone will measure 162.4 x 74.5 x 8.4mm. It was recently suggested that Samsung might introduce eight new colors with its Galaxy Note 8.
One leak that came directly from Samsung suggested that the Galaxy Note 8 will be powered by the company's Exynos 8895 chipset.
Meanwhile, there are other rumors that claim that the device will house the Qualcomm Snapdragon 835 system-on-chip. Chances are, the device might be launched in two variants. The device might house a 3,300mAh battery. Samsung has to be super careful with its battery, especially with reference to the Galaxy Note 7 fiasco. The smartphone is expected to run the latest version of Android OS.
The handset is expected to sport a dual rear camera setup that comes with support for a 2x optical zooming option.
The smartphone will pack both telephoto and wide-angle lenses with into its device. The smartphone will come with an 8-megapixel front camera sensor, as well. Stay tuned for more news and updates on technology. Stay tuned for more news and updates on technology.
Click to read more
You will watch a video to read the news
or