Recent FCC filing gives us reason to believe it's the next Google Pixel 2
Taiwanese company HTC made the new filing with numerous documentation and details about the phone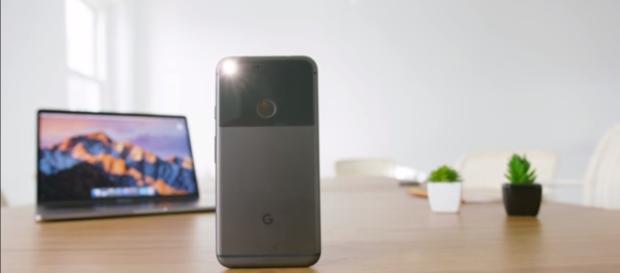 While it is widely rumored that Pixel's XL successor will be manufactured by LG, it looks like the next version of the smaller Pixel will again be produced by HTC. Today, a new FCC filing strengthens the possibility of HTC handling the Google Pixel 2. In addition are a number of significant information on the nature and features of the device.
How do we know it's Pixel 2?
For starters, the FCC listing shows a lot of clues and imagery that point to one of Google's upcoming smartphones. A screenshot provided by 9to5Google reveals navigation buttons that are exclusive to Pixel phones. HTC is known for using capacitive buttons, and it is quite unlikely that they will replicate the Pixel navigation style for a new HTC phone.
Another clue is the Settings menu, which highly resembles stock Android instead of HTC's Sense skin.
Moreover, the screenshot says that the phone will run on Android 8.0.1, which is very interesting considering it is non-existent at this point. A closer look and analysis at the phone's label affirms the speculations. The FCC ID for the latest HTC filed product is NM8G011A. It can be recalled that Pixel and Pixel Xl were filed last year with model IDs NM8G-2PW2100 and NM8G-2PW4100, respectively. NM8 is the FCC grantee code for HTC while G011A may very well be the model number of the Google Pixel 2.
What else do we know?
The screenshot provides additional information about the phone. The storage capacity says 64GB with 21% used storage amount. If ever, this would give the user a remaining 50.66GB to work with.
Should 64GB be the base storage amount for the next Pixel line, it would be a first. The previous models were shipped with either 32GB or 128GB, but none were offered at 64GB. According to the FCC, this is a production unit.
Another important feature is under the Languages section, which says "Active Edge." This serves as positive confirmation on previous rumors that the Pixel 2 will have a squeezable edge where the user can simply squeeze the phone to activate Google Assistant.
The device's processor is believed to be Qualcomm Wi-Fi chip that is compatible with Snapdragon 660 or the Snapdragon 835. Also, the baseband version is featured with code name 8998. Considering this may be one of Google Pixel's premium line, it is very likely that the chip will be that of a higher processor.
Although no snapshots of the device were included in the source, a previous leak from 9to5Google has shown that the Pixel 2 will sport the same design as the original. The front showcased a thick bottom bezel that serves as a speaker grill for a dual audio system. A 3.5mm audio jack is also in place. The design has a glass window at the back and a fingerprint sensor.
Click to read more
and watch the video
or