Pixel 2 News: Huge bezels to appear just like iPhone 7?
Leaked images of Pixel 2 have emerged over the web to reveal the handset's design.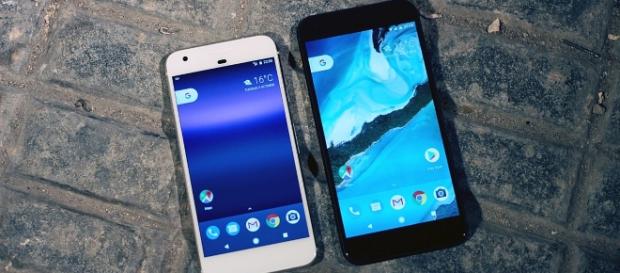 PIXEL 2's latest leaked photos reveal more details of what could be expected from the smaller variant of the Pixel series. Based on the leaked images, the device will be a rectangular shape handset, which will be significantly different from the first released handset. The leaked images also showed that the handset will have Huge bezels that could be as large as those on iPhone 7S and iPhone 8. The revamped version of XL was also shown through a render.
Leaked Pixel 2 photos show recent design.
Latest handset photos confirmed that the smartphone is now in the early stage of development. Its general form is more rectangular, with sharper corners. Its speaker cutout can be seen on the top and bottom of the screen.
The leak has somehow created excitement amongst Google smartphone fans because it is more likely to provide a better audio experience, given that the original model had only one speaker.
The second image, on the other hand, shows off the back design of the handset. It has suggested a redesigned camera, including a shorter glass panel. There are no exact details yet regarding the Pixel 2 official announcement, although there are speculations that it could happen in October, Android Central reported.
Pixel 2 will run powerful processor
The upcoming handset variants are reportedly getting the Qualcomm Snapdragon 835 processor, which is also included in OnePlus 5 and the Samsung Galaxy S8. It means that both models will provide plenty of power.
4GB of RAM is also expected to equip the Google smartphones, making it sufficient and fast to switch from one app to another. Pixel 2 smartphones may also come as water-resistant - the original models do not have water resistance capability.
Other reports claim that Pixel 2's development focuses on the camera, further noting Google's plan to provide for proficient low-light photography. The camera will likely have a modest megapixel count but with additional features. However, the Pixel 2 devices will be unlikely to have a dual-lens camera system that is becoming more popular among premium flagship handsets such as the iPhone 7 Plus, OnePlus 5 and LG G6, Business Insider reported.
Other Google smartphones Pixel and Pixel XL, meanwhile, gets a recent price cut.
The latest deal says it is $125 and $200 cheaper respectively, as part of Google's back-to-school promotion. Taking advantage of the deal will give buyers a chance for a free Daydream View headset.
Click to read more
and watch the video
or