Microsoft to launch Eye Control in Windows 10, can open apps by using eyes
Rate this title
The Eye Control feature will empower people with disabilities to operate an on-screen mouse and keyboard.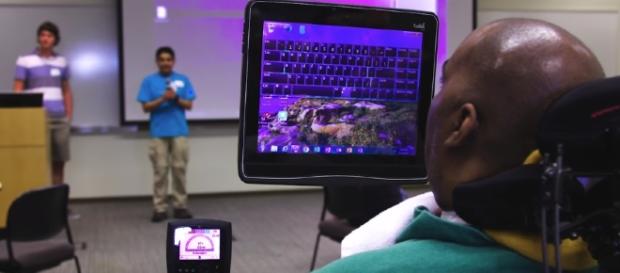 Microsoft plans to launch a new feature in Windows 10. The feature, which is a native eye tracking technology, is dubbed as the Eye Control. The eye tracking technology is intended to make Microsoft's operating system more accessible to individuals who have Amyotrophic Lateral Sclerosis (ALS) or people with other neuromuscular diseases.
Native eye tracking technology
The Eye Control in Windows 10 operating system will allow individuals with neuromuscular diseases to control various user interface elements in the operating system without touching a device. This would let people who can't move their hands to control computers without a mouse or a keyboard.
Making Windows 10 more accessible
Windows 10's new feature will let people navigate the computer's user interface by looking at parts of the screen. Users will be able to open apps, as well as perform other actions without using their hands. According to Venture Beat, users can move the mouse cursor with their eyes. The Eye Control in Windows 10 is part of the Redmond based tech giant's effort in making its operating system more accessible.
The Verge reported that the preview build blog post provides in depth on how the new Windows 10 actually works, with examples of utilizing the feature to type more quickly with a person's eye and then translate the text into speech. It also showcased the launchpad's breakdown for accessing the peripheral functions.
However, one really neat feature of the Eye Control is what the tech company calls, shape writing, which should let a person type fast by looking at just the first and last letters of a word, then the user will simply glance at the letters in between.
The tech giant made it known that a hint of the word predicted will pop up on the last key of the word, but if the prediction is incorrect, the user can simply change it with another predicted alternative.
Microsoft revealed that its endeavor to bring the Eye Control feature in Windows 10 started back in 2014. The tech giant held a hackathon event, where the former NFL player Steve Gleason (diagnosed with ALS) suggested to roll out computers more accessible to individuals like him.
Nonetheless, one of the teams of the hackathon, Ability EyeGaze, created a wheelchair that is controlled by Microsoft Surface device's gaze-tracking technology. The Ability EyeGaze team may have won the grand prize of the event, but the technology on their wheelchair caught the attention of Microsoft's Windows team. This ignited the company's plans to integrate Eye Control in Windows 10.
Click to read more
and watch the video
or