IFA 2017 spotlight: Garmin challenges the competition with the Vivoactive 3
Garmin introduces their latest smartwatch model during the IFA 2017, the Vivoactive 3.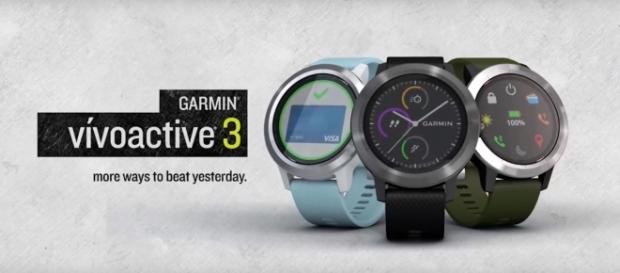 This week at the IFA 2017 in Berlin, Samsung has re-established its stand on wearable technology as it debuts the Gear Sport and Gear Fit2 Pro. However, the press has also established that these new models have incremental upgrades from their predecessors. Other than the more rugged military-grade ingress-protection, the two wearables are mostly the same as before. However, another player has entered the battle to claim their own piece of the pie. Garmin has been a name synonymous with its premium lineup of fitness-oriented smart watches and more. The company introduces the Vivoactive 3, which is another entry to their long-running lineup of fitness-tracking smart watches.
Garmin Vivoactive 3 revealed
As of now, the three major players in the fitness-centric smartwatch market are Apple, Fitbit, and Samsung.
It is evident that Garmin is hardly on the tip of anyone's tongue when talking about wearable tech. On the flipside, the company is obviously familiar to everyone to as a manufacturer of GPS technology systems. Their products are mostly used by the industries involved in aviation, automobiles, marines, outdoor, and most recently, sport and fitness. They have just recently branched out to fitness trackers and smartwatches. Their Vivoactive 3 is poised to take on the competition with its cost-effective price point.
Design and build quality
It is constructed out of a fiber-reinforced polymer case with metal parts as well as a stainless steel bezel. The 1.2-inch round watch face is protected from impact and scratches by a Corning Gorilla Glass 3 lens.
The package wristband is made out of silicone rubber and can be easily replaced with compatible straps. It charges through a magnetic pogo pin connector located on its back along with its optical heart rate sensor.
Notable features of the new model
The device features a round-shaped Chroma touchscreen display. Another unique feature of the watch is its Side Swipe mechanism, which is a textured capacitive strip on one side of the bezel opposite its only physical button. It permits users to cycle through the smartwatch's menu via the slider. The device also comes with Garmin Pay, a feature that is currently available on this particular model only. Just like the technology used by Samsung and Apple on their wearables, it allows users to make NFC payments with a tap of their smartwatch.
Battery life is rated at 13 hours with full GPS-monitoring turned on and up to seven days in smartwatch mode. Watch mode can boost battery life up to 2 weeks as detailed by Garmin.
Fitness-tracking and connectivity features
As expected, the smartwatch can track the user's location and activity data with its built-in GPS navigation system. Various sensors like its barometric altimeter, compass, thermometer, and accelerometer all combine to gather different information the user's activities. Its optical heart rate sensor can monitor heart rate, stress, and oxygen levels. The device can also record activity from a wide range of workouts and sports. The Vivoactive 3 can also pair wirelessly via Bluetooth with both Android and iOS devices synchronize its data with their fitness apps or Garmin's own, which can be downloaded for free from their respective application markets.
Price and release date
In the past, other smartwatch models from the manufacturer have always carried a premium price point. The Garmin Vivoactive 3 aims to change that with its premium features and cheaper cost. It carries a $299.99 USD to $329.99 USD price depending on the build. It is now available for purchase and consumers can order the product directly from their website and other markets.
Click to read more
and watch the video
or