The upcoming device has appeared right next to its sister flagships, Galaxy S8 and S8 Plus.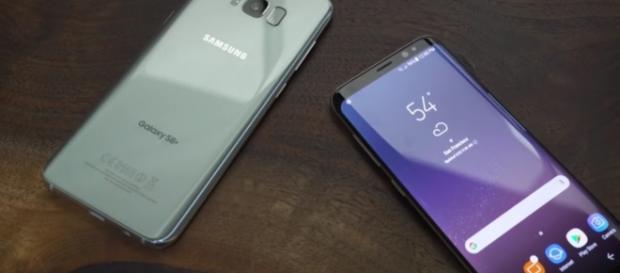 Samsung is expected to unveil its heavily-speculated Galaxy Note 8 smartphone at an event titled, 'Unpacked' on 23rd August. Needless to say, there have been countless rumors and predictions regarding what Samsung might pack in its upcoming flagship smartphone. The leaks have already given the fans a vague idea of what can be expected; however, these leaks will keep emerging online until the smartphone is officially launched.
The South-Korean technology giant only recently took the wraps off its Galaxy S8 and S8 Plus smartphones as well and has been leading the market with its great innovations. However, questions such as how different will the two flagship devices from Samsung will be, when compared hold great importance.
Images of the Note 8
According to Droid Life website the images consisting of the Galaxy Note 8 smartphone and placed them next to the official press renders of the Galaxy S8 and the Galaxy S8 Plus devices. This way, the viewers got the opportunity to see the stark differences that existed between the three. The front panels of all the three primary smartphones are visible and thus has given the viewers the chance to notice that similarities as well. It can be noted that the Galaxy Note 8 smartphone comes along with sharp edges when compared to Galaxy S8 and S8 Plus that have rather rounded corners.
Overall comparison
As far as the display is concerned, the latter seems to be carrying slightly more curved front panel than the former. There is another picture that puts the rear panels of all the three smartphones in Comparison, and it has been found that the main difference between the two flagship smartphones is the dual Rear Camera setup.
As many may already know, the Note 8 smartphone is expected to pick-up a dual rear camera setup.
Meanwhile, the S8 and S8 Plus carry a single rear camera setup accompanied with a flash. The dual rear camera setup is placed horizontally on the back-side of the Galaxy Note 8 smartphone along with a LED flash as well. The smartphone also comes along with a fingerprint scanner that is situated right beside the camera lenses. It can also be visibly noted that the Bixby button also comes packed on the sides of both the flagship smartphones.
The upcoming phablet smartphone is going to be among the priciest offerings made by Samsung till date. It will also be among the first Samsung smartphones to carry a dual rear camera setup.
Click to read more
and watch the video
or