Asus' Zenfone AR now available for pre-order from Verizon at $648
Given the smartphone's capabilities for both augmented and virtual reality, the price seems right.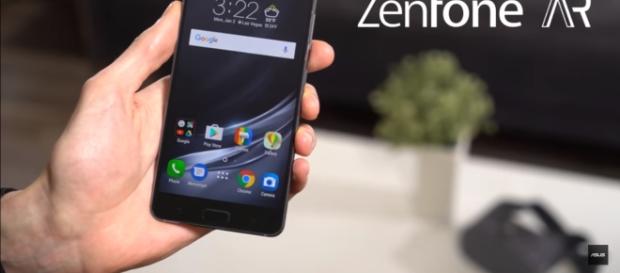 Asus unveiled their two new phones, the Zenfone 3 Zoom, and the Zenfone AR, back in January at the Consumer Electrics Show. The former has already hit the market in May, but the company was low key on providing details on the release of the latter. Now, the Zenfone AR has finally arrived in the United States as a Verizon exclusive. Before this, Google and ASUS made it known to the public at Google I/O that the phone was coming exclusively to Verizon. Without any official announcement, the option for pre-order came up on Verizon's website earlier today.
A recap on features
The Asus Zenfone AR's software and hardware come equipped with Google's augmented reality (AR) software, Tango.
It is a platform that uses depth sensors, motion-tracking cameras, and are learning to create a virtual map of the real world, which is then presented on the phone's screen. Such technology requires Tango-supported phones to have more hardware to make room for the cameras and sensors. For the Zenfone AR, the size and build are quite reasonable, making it an acceptable choice for new users.
The newest Asus handset will have a 5.7-inch QHD AMOLED display that is powered by Snapdragon 821 processor. Battery capacity is 3300mAh with a storage of 128GB and 6GB RAM. Naturally, one can expect highly of the cameras since the phone carries both Google's Tango and Daydream. It has three cameras on the back, one for depth sensing, a second for a high-resolution 23MP shooter, and a third for motion tracking.
Asus claims that is the first smartphone to provide both AR and virtual reality (VR) in one device. There will be an entire library of VR games and experiences to be facilitated by Google Daydream View, which is a platform for high quality, mobile virtual reality.
Details on pre-orders
Despite the rather quiet build up on the details of pricing and availability, Asus finally made the long wait the over. The Zenfone AR is now available for pre-order at Verizon for a full price of $648 or a leasing plan of $27 per month. The product page is now up at the website, but ASUS is yet to confirm a shipping date, hopefully sometime soon. The smartphone only comes in 128GB.
The AR-enabled handset on Verizon's listing will show up under the tab for all Asus phones available for pre-order. Flip the availability pull down to All at the Select a Device screen. Product brands will be prompted, choose ASUS, and the product page should show up. Consumers need to take note that it is not yet for sale. According to a source, the phone could be up for sale as early as tomorrow.