Acer's mixed reality headset for Windows 10 up for $300
The company is selling the Developer Edition version of Acer's mixed reality headset.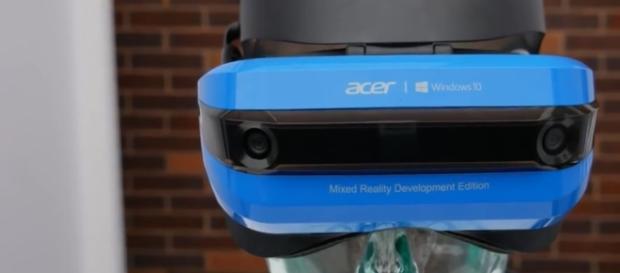 Acer took the wraps off its Mixed Reality platform sometime earlier this year. However, at the time of the launch, the platform wasn't available for use for the Windows 10 Creators Update for obvious reasons. The firm was waiting for Microsoft to unveil its latest software operating system platform as well. Given that Microsoft is done introducing its platform, it seems like even Acer has buckled up to launch its mixed-reality headset for the same. The mixed reality headset is available in leading e-commerce platforms, at a base price of $300.
Microsoft's collaboration with Acer
Interestingly, Microsoft only recently announced its collaboration with Acer, wherein the two companies are believed to be working together in order to develop mixed-reality headsets for the Redmond technology giant's Windows 10 Creators Update.
In fact, more development was provided with regards to the upcoming innovation from the side of Microsoft and Acer as time passed by. Take, for instance, the firms took to the CES, 2017 annual technology event that took place earlier this year in Las Vegas in order to give the fans a glimpse of what can be expected from the speculated mixed-reality headsets. The company describes its Mixed Reality Platform for Microsoft's Windows 10 Creators Update as, 'Windows Holographic.' According to Microsoft, it is among the most important elements that its Windows 10 software update comprises of. The application is perfectly functional on numerous devices, including laptops, Xbox One and desktops as well. The latest mixed reality platform also further extends its support for Microsoft's HoloLens augmented reality headset that cost around $3,000.
Specs and features
Microsoft is taking a unique turn with its products in the coming future. Take, for instance, its heavily-rumored Surface Phone that the Redmond tech-giant has been speculated to work on, since early last year. The device manufacturer is expected to pack up its Surface Phone with as many modern-day features as possible, while also ensuring that the handset stands out in the crowd. Coming back to Microsoft's Mixed Reality headset, the device offers support for both, Augmented Reality (AR) as well as Virtual Reality (VR). Its features include a detachable 13-foot HDMI cord, Intel Core i7 chip with six AMD Ryzen 7 1700 processor clubbed with NVIDIA GeForce GTX 980 for graphics. The headset further goes on to offer over 16GB of memory along with 10GB of storage, which is further expandable. The headset also offers Bluetooth 4.0 as well.
Click to read more
and watch the video
or