Will Samsung Galaxy S8 Active launch without the Infinity display?
Rate this title
Leaked images of the Galaxy S8 Active offer a glimpse into the rugged variant, which seems to have ditched the Infinity display.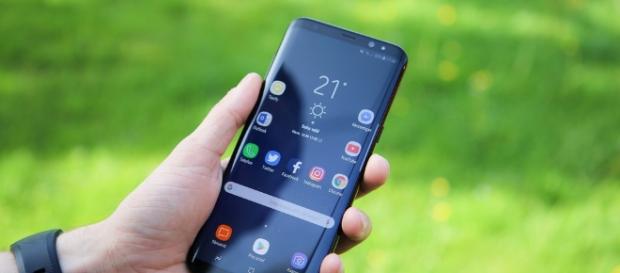 Samsung will continue its trend of launching a rugged version of its flagship handsets this year as well. The Galaxy S8 Active is expected to sport a better protection in case of accidental drops and is not as easily cracked when compared to the original flagships the Galaxy S8 and Galaxy S8+. The South Korean company began launching these rugged handsets after many users complained that the curved edge displays on the flagship devices were prone to cracking upon accidental drops.
Now, new leaked images of the rugged version of the phone have been shared by a Reddit user, which indicate that the upcoming device may not sport the impressive Infinity display, which is present in its sibling handsets.
The leaked images also offer other interesting info about the impending Smartphone. However, being leaks, these images and details must be taken with a grain of salt.
No Infinity display
One of the most talked about and well-received feature of the original Samsung flagship of this year was the Infinity display, which gave users wider viewing angles. However, if the recently leaked images are to be believed, the Galaxy S8 Active will not be sporting the Infinity display at all. In fact, it will come with a flat display with no rounded edges.
The device will also sport a lot more bezels on the sides compared to its ordinary counterparts. While these changes may not make the device aesthetically pleasing to look at, they will nonetheless offer better protection to the display in case of accidental drops.
Apart from this, the handset will also have metallic sides and polycarbonate rear panels, offering it even more protection. On top of this, the screen will have an additional shatter resistant glass to ensure that it survives accidental drops or knocks.
Differences between the two phones
The impending rugged variant is said to boast 4000 mAh capacity batteries inside it, meaning it will afford greater battery backup than either the Galaxy S8, which had a 3,000 mAh battery, or the Galaxy S8+, which boasted a 3500 mAh battery. This extra battery will be quite useful for people who buy the rugged variant of the phone.
Apart from this, the Galaxy S8 Active will not sport the Active button, which was found on previous Active variants of the Samsung's flagships. Instead, users will be presented with the Bixby button, which can be used to quickly launch the AI assistant. Samsung will not allow users to remap this button to launch other programs. All other specs of the Galaxy S8 Active are expected to be the same as that of the Galaxy S8. However, Samsung is yet to reveal when it would be launching this rugged variant of its flagship device for 2017.
Click to read more
and watch the video
or