Watch the all-new 2018 Jaguar E-Pace do a record-breaking barrel roll
The Jaguar E-Pace now official holds the Guinness World Record for the longest barrel roll in a production car.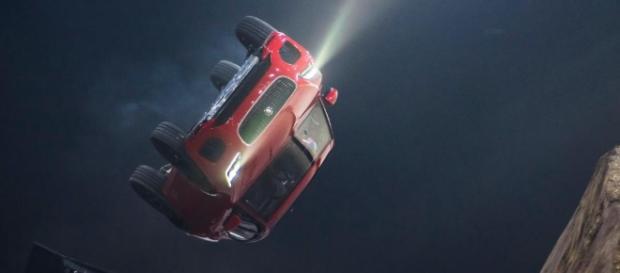 The Jaguar brand is mostly known for expensive and opulent sports cars like the Jaguar F-Type, Jaguar E-Type, and the Jaguar XJ220. However, the company is apparently shifting its focus on providing practical and relatively affordable vehicles, which included its first ever compact SUV, the Jaguar F-Pace.
Now, Jaguar is introducing an even more practical offering in the form of the brand new E-Pace, which is basically a scaled-down F-Pace with less power, a smaller footprint, and a lower price tag. To make the unveiling of the new compact SUV even more appealing, the company officially presented the vehicle doing the most spectacular stunt possible; jumping a ramp and doing a complete 270-degree #Barrel Roll.
World record
During the E-Pace's official unveiling in London, the vehicle itself went on stage with stunt driver Terry Grant at the helm. The unveiling event was also a bid to get an official #Guinness World Record for the longest barrel roll in a production car. Grant was able to get that record during the stunt by propelling the vehicle in a 50-foot jump, which included a semi-complete 270-degree barrel roll. The vehicle rocketed through a 525-foot runway hitting the ramp with a maximum G-force of 5.5g in the middle of the roll.
Jaguar had reportedly been preparing for the stunt for quite a while, running several computer simulations before even attempting to make the first jump. Grant's experience and his relationship with Jaguar also helped in the amazing feat. Grant also holds the record for driving through the biggest loop-the-loop using a Jaguar F-Pace back in 2015.
Not your average Jag
The Jaguar E-Pace, which some have called a baby F-Pace, is clearly banking on the popularity of its larger sibling. The F-Pace was officially launched last year and has so far sold more than 80,000 units. That number accounts for half of the company's total cars sold last year, which is why it isn't really surprising that they immediately followed it up with a vehicle that follows the same formula.
Hardware specifications
The E-Pace actually uses the same platform as the Land Rover Discovery Sport and the Range Rover Evoque. However, the vehicle does have a longer wheelbase that ultimately translates to more interior space. The E-Pace also utilizes an all-steel body and the company's first front-wheel drive system since the X-Type.
Buyers can, of course, opt to get a rear-biased 4WD system if they so desire. The E-Pace comes with a variety of engine and transmission options, including a 2.0-liter diesel engine with either 180hp or 240hp. A 2.0-liter gasoline engine is also available with either 249hp or 300hp. Any of the engines can be mated to either a six-speed manual gearbox or a nine-speed automatic transmission. #Jaguar F Pace