Tech giant Samsung is looking to bring the service over and beyond its network.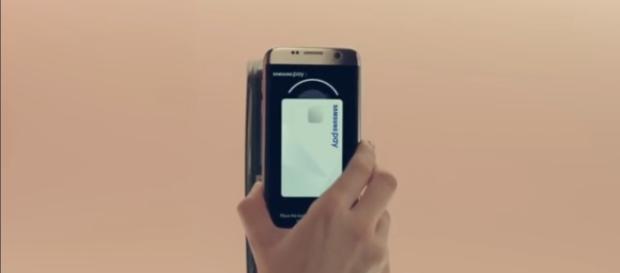 Earlier today, it was reported by CNET who cited Gadgets 360 as saying that Samsung is exploring the possibility and potential of bringing Samsung Pay, its contactless mobile payment solution, to other phone brands. Sources familiar with the service have revealed that the Korean tech giant is currently in talks with other high-end smartphone manufacturers. While some might consider this big leap good news, others are worried about its fruition.
What is Samsung Pay?
Samsung Pay is a platform that allows users to make payments for goods and services. With a simple gesture of waving the Samsung device near a cash register, the user can settle their purchase without the process of swiping a credit card or providing payment information.
It functions similarly to Google Pay or Apple Pay on rival phones.
For it to work, the user needs to swipe up from the bottom of the display. This will launch the app along with the default credit card for payment authentication using fingerprint data. Such a requirement means that the service needs to be compatible with the latest devices with fingerprint or iris scanners. Further, there is also an option to use other cards programmed in the app by simply swiping left or right.
Payment will be biometrically authorized and the phone will prompt the contactless payment reader for the user to tap. After which, the payment is made via near field communication (NFC). More than the NFC, Samsung Pay also offers MST or Magnetic Strip Technology, which is a mobile wallet technology. MST facilitates the contactless payment with terminals that do not have NFC readers.
This feature gives more retailers access to the payment technology.
For a while now, the payment service has been active in several countries including the United States and South Korea. Most recently, it was made available in the UK as well.
The selling point
With the advantage of both NFC and MST technology, Samsung Pay has a lot more reach with retailers. While NFC is common in other smartphones, MST is currently unique to Samsung phones, which is the defining difference among its other competitors like Android Pay or Apple Pay. MST is like a special antenna that acts like a credit card reader by mimicking the swiping and making it compatible with the average card terminal.
With this unique feature, other smartphone companies who cannot invest in their own payment solution at the moment could, in turn, use Samsung Pay as a starting point. Adopting and offering a branded service from a rival might not be the immediate action for most, but it makes sense if a company wants to support just a small number of customers.
The South Korean mega corporation managed to rack up about 34 million users when it launched in 2015. This is a full 10 million more compared to Android Pay. Furthermore, the service produced a limited Pay Mini variant that works on budget phones with no MST capability. All these advantages clearly put Samsung Pay ahead of the game with its competitors. Should the move officially transpire, at least other brands have the option to make full use of the service.
Click to read more
and watch the video
or