OnePlus 5 vs Samsung Galaxy S8: A complete comparison
OnePlus 5 offers users abundant RAM capacity and a larger battery as well.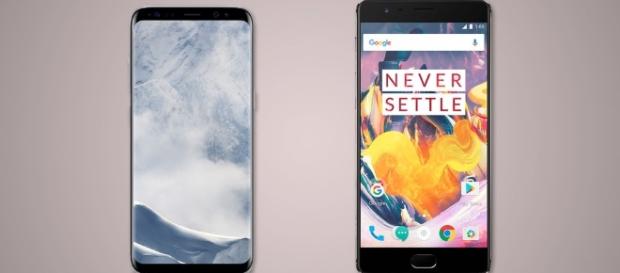 Chinese tech-giant OnePlus recently took the wraps off its much-awaited 2017 flagship smartphone, OnePlus 5. Time has arrived to compare the smartphone with #samsung galaxy S8 smartphone. All the major elements of both the smartphones will be put to test and a verdict will then be provided thereafter.
Design of the flagships
OnePlus armed it's OnePlus 5 smartphone with an anodized aluminum body that depicts strength and durability. The device measures 154.2 x 74.1 x 7.25mm and weighs around 153 grams. Sporting rounded corners, the smartphone contains a USB Type-C port on the bottom with its 3.5mm headphone jack and fingerprint sensor placed on the sides and front respectively.
While all in all the design looks simple and sophisticated, OnePlus 5 does not come with any IP waterproofing capability — which can be assumed to be a major drawback. The Samsung Galaxy S8, on the other hand, is made using a mixture of glass and metal. The device packs a savvy-looking, curved design, with USB Type-C port and a 3.5mm headphone jack located on the bottoms and sides respectively. The device measures 148.9 x 68.1 x 8.0mm and weighs around 155 grams. One advantage that Galaxy S8 comes with is its IP68 waterproofing ability.
Camera
The primary highlight of the OnePlus 5 device is that it comes equipped with a dual rear camera setup. The device packs one 16MP sensor and one 20MP sensor with f/1.7 aperture, telephoto lens and f/2.6 aperture tagged along with 4K-video recording capability.
Meanwhile, the OnePlus 5 front snapper packs a 16MP front snapper. The Galaxy S8, on the other hand, comes with a 12MP rear sensor with dual pixels, f/1.7 aperture, OIS and autofocus accompanied by an 8MP front snapper with f/1.7 aperture and autofocus. Regardless of the camera features, both the devices deliver excellent results.
Performance
Both the smartphones are powered by Qualcomm's Snapdragon 835 SoC. However, Samsung also has an exclusive Exynos 8895 chip Galaxy S8 version, depending on the user's preference. While the former comes in two storage variants, i.e. 6GB RAM/ 64GB ROM and 8GB RAM/128GB ROM, the latter offers 4GB RAM/ 64GB ROM — both of which are expandable. The OnePlus 5 houses a 3,300mAh battery with Fast Charging Technology and #The Galaxy S8 packs a 3,000mAh battery with no special charging enhancements. OnePlus 5 is clearly the winner in this round. It's clear that OnePlus 5 offers users with abundant RAM capacity and a larger battery as well. However, Samsung's design specifications have an upper hand over the former. #35Mm Headphone Jack