iPhone 8 delayed until November will have fingerprint sensor for emergency calls
Rate this title
Thanks to its higher-end components, the price of the iPhone 8's is expected to rise above $1,000.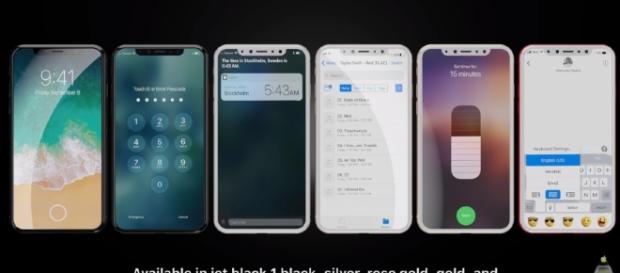 Recently surfaced reports claimed that production of Apple's highly anticipated iPhone 8 would be delayed until November-December. The delay was first reported by DigiTimes.
The OLED iPhone 8 will initially ship in only small quantities, as manufacturers are having some issues regarding the yield rates as well as the mass production of Apple's new smartphone.
While previous reports claimed that the OLED-version iPhone's mass production had already started, Foxconn Electronics and Pegatron's yield rates have not reached the mass production levels. The Cupertino based tech giant has encountered a constant battle over the components of the upcoming iPhone 8, particularly the smartphone's most expensive OLED model.
According to IT Pro, Apple suffered from the screen technology's severe shortages, while complications around the front fingerprint scanner's inclusion may force the tech company to ditch the feature entirely.
Mobile device's fingerprint touch - for emergency calls
Meanwhile, the tech company appears to roll out a feature to the iPhone 8 smartphone that allows its users to make emergency calls via a fingerprint touch. IB Times reported that a patent application indicated that commands are entered into the mobile device with a touch processing module that will evaluate which finger was used.
These sequences would prompt an emergency 9-1-1 call. In spite of the fact that not all of the tech company's patented devices are included in its product's features, the emergency fingerprint touch could be the iPhone 8's key selling point.
However, one of the main features of the patent is the ability of the app to remain undetected to the attacker. The patent also indicated that the feature could make a call even when someone is only watching the user.
Nevertheless, the final design of the upcoming mobile device has surfaced online. A new set renders have mounted up on the internet, which showcased what might be the handset's final design. The new renders were shared by Gordon Kelly of Forbes.
Amazing specs of the smartphone
However, the mobile device is expected to arrive with a 5.8-inch 2.5D OLED display, an all-glass construction, wireless charging support, iOS 11 OS with improved Siri, and vertical rear dual cameras. The smartphone is expected to have a $1,200 price tag. The much awaited iPhone 8 will be the tech company's most expensive mobile device ever.
Click to read more
and watch the video
or