'Real Housewives of Atlanta': NeNe Leakes in ugly encounter with fan at the airport
Don't miss our Facebook page!
Like Blasting News page on Facebook: we will keep you updated with all the latest news.
Microsoft has announced that a new update of Windows 10 known as "Autumn Creators Update" will remove the long standing graphics editing tool: Microsoft Paint, the Guardian reported.
Microsoft introduced "Ms Paint" in the very 1st version of Windows 1.0 in 1985, which was the licensed copy of "PC Paintbrush". It had compatibility with all the computer operating systems of Microsoft.
What will be added in the new Windows 10 update?
MS Paint was the simple Microsoft program to edit and draw images with available tools and one of the most fun loving program for millions of people around the world.
Microsoft introduced the latest "Paint 3D" in the Windows 10 "Autumn Creators Update". It consists of new tools for 3D images and also 2D image editing but it is not an update of old version and does not operate like it.
MS Paint is now on the deprecated list of Windows 10 apps and might be removed in future updates. It was not a very advanced application for high-level editing, but it was the most used app for quick cut and paste work. Until 1998, it was limited to only PCX formats and BMP (Bitmaps).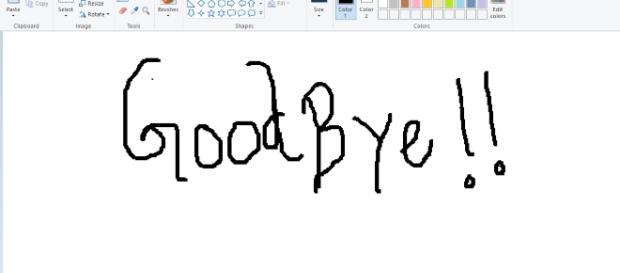 JPEG support was not introduced until Windows 98 in the late 1990s.
The most recent and improved version of MS Paint was introduced in Windows 7, but as compared to other alternatives of paint such as Paint.NET which is a third-party app, it was still considered to have poor features.
Before Paint, Microsoft also killed "Clippy" in 2007 which was designed by Kevan J. Atteberry. It was introduced in 2003. It will be a remarkable a moment in the history of Windows when users say their official goodbye to Paint.
MS Paint will be on Microsoft store
After seeing lots of love across the internet, Microsoft has decided not to kill MS Paint altogether. According to the general manager of Microsoft's Windows 3D Initiative, it will be available to download free from the Windows Store. The difference between in-built Paint and an external installation is that it will not be used in its current state in Snipping tools and Notepad. The system administrator will give permission to install Paint from the Windows store.
List of the apps that will be removed along with Microsoft Paint
3D Builder app.
Outlook Express.
Reader app.
Reading List.
TCP Offload Engine, IIS Digest Authentication, RSA/AES Encryption for IIS, Image Backup (SIB) Solution and Windows PowerShell 2.0 are also in the list of Deprecated apps.
Click to read more
and watch the video