2018 Toyota Supra: What is the mystery hiding beneath its covers?
This latest Toyota offering is currently making waves as it was recently spotted at Nurburgring.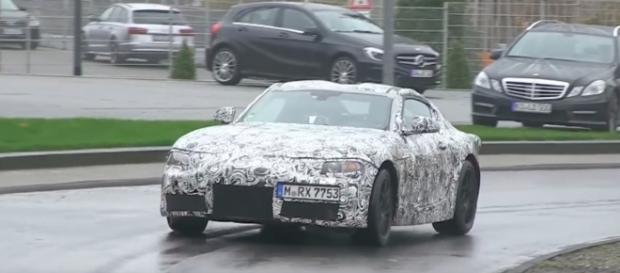 Toyota is responsible for producing the best cars over several years. It has already etched its mark in history, no doubt. Everywhere you go in all four corners of the globe, there would definitely be a Toyota vehicle.
Well, its history sometimes is tarnished by car recalls just like the recent one involving 228,000 Tacoma pickup because of leaky differentials. In spite of these mishaps, Toyota managed to get back up and forge ahead.
It produced affordable, top-notch cars, representing all auto segments. From Corolla to its Tundras, Toyota's cars have been an easy favorite by many the world over. With the addition of soon-to-be-released 2018 Toyota Supra, the Japanese auto maker has raised the level of excitement even higher.
Why the excitement?
For one, the 2018 Toyota Supra has been spied several times. However, experts and car enthusiasts are left hanging as Toyota has done a good job concealing the entirety of its latest Supra. It has been completely covered in camouflage which almost leaves no clue whatsoever to hawk-eyed witnesses.
Well, this is a good thing so as not to spoil the beauty that's hidden underneath all the cover. In spite of all the disguise, a little peek of its interior provides little hints here and there. The 2018 Supra prototype has noticeable resemblance to BMW cabin bits particularly the iDrive infotainment controller and display.
Reports also point to the direction of the Supra having a hybrid range-topper.
This is exceptional as it enables the Supra to also perform an all-wheel-drive experience. There are also some reports circulating that it will only come in automatic-only form. At this point, all these have yet to still be confirmed.
Supra is famous!
Yes, the Toyota Supra is famous! It is a movie star! Its elder brother, the 1994 Toyota Supra MK IV was used in the movie "Fast and the Furious." It was the 10-second car which Brian used to settle his debt with Dom. It gained worldwide attention as it appeared in the famous movie franchise.
The 'Ring Performance
Yes, very recently, the 2018 Toyota Supra has been spotted being tested at Nurburgring. True to The 'Ring testing, it was manhandled on the track to see its ultimate capability.
Obviously, it is all covered up but its angry-exhaust response is more than music to any car enthusiast's ears. Soon, the wraps will come off to fully expose the highly anticipated Supra. Stay tuned for further updates.
Click to read more
and watch the video
or