Stuck with slow internet? VIASAT-2 has your back
How VIASAT-2 was planned, detailed info about the satellite, and its launch.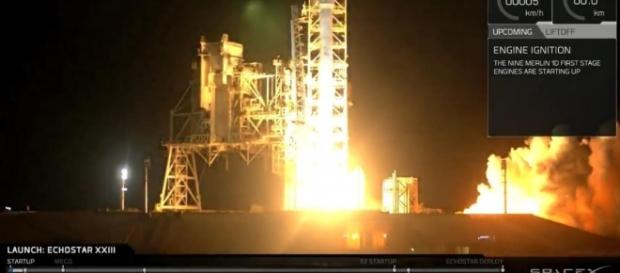 Manufactured by the Boeing Company, under a contract from US-based communications company ViaSat in May 2013, ViaSat-2 is a Ka-band satellite, which will provide satellite internet via Exede internet. Xplornet, Canada's largest wireless broadband service was in charge of the satellite's capacity. The Ka-band antennas were built by Harris Corporation, an American tech solutions company. When Space X CRS-7 exploded, the launch contracts were instead sold to French MNC and the world's first commercial launch service provider, Arianespace Inc.
About the satellite
ViaSat-2 weighed 6800kg at launch and is designed to provide 18 kilowatts of power to its payload.
It operates at a throughput capacity of 300 GB/s, the highest among high-throughput satellites, and operates over the Ka-band frequencies. ViaSat-2 uses chemical propulsion to raise the satellite from its transfer orbit to final geostationary position. Then, it's Xenon-ion electric propulsion takes over to make the minor maneuver to maintain the satellite in its geostationary position for at least 15 years. ViaSat-2 will cover an area seven times larger than its predecessor -- ViaSat-1 -- and would also serve air and maritime routes.
The launch
ViaSat-2 was accompanied by the French-made Eutelsat 172B aboard the Ariane-5 in a dual payload stack. The Ariane lifted off from the Kourou space center in French Guiana at 23:45 PM GMT on Thursday. Viasat-2, being the heavier of the two, was the first to be deployed.
It'll take several months for ViaSat-2 to reach its intended orbital destination of 69.9 degrees west longitude.
"With ViaSat-2, we begin a transition from being a domestic US-based company primarily, to now being a regional company, and in transition to becoming a global company," ViaSat Chief Executive Mark D. Danberg said after the launch.
Outcomes
ViaSat expects considerable amelioration in internet speeds and services across North America, Central America, the Caribbean, a portion of northern South America, and across the Atlantic between North America and Europe. The new satellite is also going to enhance the company's businesses on airlines.
"Today we have a $50 broadband plan to rural America. It's pretty good; this one is going to be better. All of which is to say, it's going to be in a position to better compete with terrestrial services. In fact, we'll be better than those services, in terms of speeds and volume," ViaSat President Rick Baldridge said during an interview with FierceWireless Tech.
Click to read more
and watch the video
or