Microsoft unveils its brand new 'Modern Keyboard' that sports a hidden feature
Users will notice an extra button that has a fingerprint symbol, which interestingly is an actual fingerprint scanner disguised as a normal key.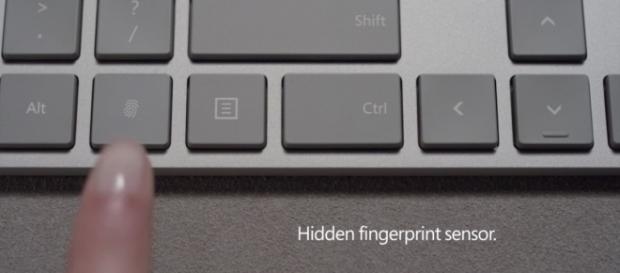 Microsoft has just recently released a slew of brand new products that have changed some people's perception of the company offerings. The company's formerly utilitarian-themed products have now been replaced by stylish new devices such as the recently unveiled Microsoft Surface Studio, the new Surface Pro, and the Surface Laptop. To supplement their new found designer devices, the company has now announced a brand new Windows 10 keyboard that has been developed to blend well with their new offerings.
Hidden feature
The brand new keyboard, which is aptly called the Microsoft Modern Keyboard, will be the successor to the company's Surface Keyboard. While the new product looks and feels very similar to its predecessor, the device actually hides a unique feature embedded between the alt and ctrl keys.
Users will notice an extra button that has a fingerprint symbol on it, which interestingly is an actual Fingerprint Scanner disguised as a normal keyboard key.
Microsoft specifically mentions in its promotional materials that the design of the fingerprint scanner was intentional and they just really wanted it to look like any other key. By doing this, users will have a flawless typing experience thanks to the clever design of the scanner that doesn't get in the way during regular use.
Full compatibility
According to Microsoft, the new Modern Keyboard will not only be compatible with the Windows 10 operating system but it will be usable within a number of other third party systems. The keyboard is fully compatible with MacOS as well as the latest Android operating system. However, the device was designed specifically to complement the look of Microsoft's new offerings.
Scanner functions
Despite its compatibility with other operating systems, the device itself was created specifically for the Windows environment. The scanner can be used by users to log-in to Windows or visit websites using Windows Hello. The scanner can also create an additional layer of security to lock specific files and other functions.
The Modern Keyboard can be purchased together with the company's new Modern Mouse, which sports invisible buttons, extreme precision sensors, and a metal scroll wheel. The Keyboard can be connected wirelessly via Bluetooth 4.0. The keyboard utilizes a built-in rechargeable battery, while the Modern Mouse uses standard AAA batteries. The keyboard has been announced to retail for $129.99. No pricing is currently available for the Modern Mouse.
Click to read more
and watch the video
or