Microsoft Modern Keyboard includes a fingerprint sensor
Microsoft revealed its wireless Modern Keyboard with fingerprint scanner along with the wireless Modern Mouse.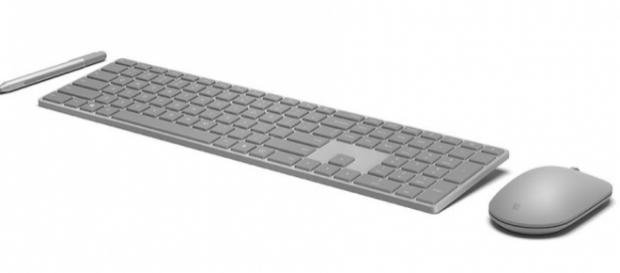 Microsoft has unveiled the Modern Keyboard, which is a wireless keyboard featuring a sleek design and an inbuilt fingerprint sensor. This is an innovative product from the Redmond-based company. Previous iterations of wireless keyboards never housed the biometric detection technology.
At first glance, the keyboard looks like any other device of its kind. Although this new keyboard does sport a much more stylish look, owners will be hard pressed to locate any unique feature about the keyboard.
However, upon closer inspection, it can be seen that the device boasts a fingerprint sensor on the right side and the sensor looks just like an ordinary key would.
Modern Keyboard with fingerprint sensor
Microsoft's decision of including the Fingerprint Scanner indicates that it expects the keyboard to be used with handheld devices, such as tablets.
For PC usage, the fingerprint feature would be hardly useful to anyone. However, since all handheld devices are now locked, the fingerprint sensor can come in handy while using the keyboard. For instance, on a tablet users can now directly unlock the device by swiping their fingers on the keyboard's sensor.
The device is expected to work exceptionally well with Windows 10 devices. However, Windows 10 is not a requirement for the Modern Keyboard, as Microsoft has assured that it would function just as well with MacOS and Android devices. This means that people using iPads will also likely be able to use the Microsoft Modern Keyboard.
Design wise, Microsoft's latest offering features an all aluminum build, which has been designed to last. The structure and looks of the device ooze elegance and Microsoft seems to have put a lot of thought in the coming up with the design and outlook of the Modern Keyboard.
Its sleek aluminum build will surely make fans happy.
Microsoft also unveiled the wireless Modern Mouse alongside the Modern Keyboard. The mouse is designed specifically to match the Modern Keyboard's looks and build quality. The company stated that the mouse would feature precise point and click abilities for ease of navigation while using it. The customized construction of the new mouse also ensures that it does not produce any sound while being used, so that users are not distracted from their work.
Pricing of the new products
Microsoft revealed that the Modern Keyboard with the fingerprint sensor will retail for $129.99. The Modern Mouse, on the other hand, will bear a $49.99 price tag. The price seems to be steep, but considering the superior build quality and a fingerprint scanner on the keyboard, these prices may be justified. A release date has not been revealed yet but may soon be confirmed by Microsoft.
Click to read more
and watch the video
or