Galaxy C10 may beat the Galaxy Note 8: first Samsung device with dual camera
Leaked images of the Galaxy C10 suggest that it will be the first Samsung handset to sport the dual camera.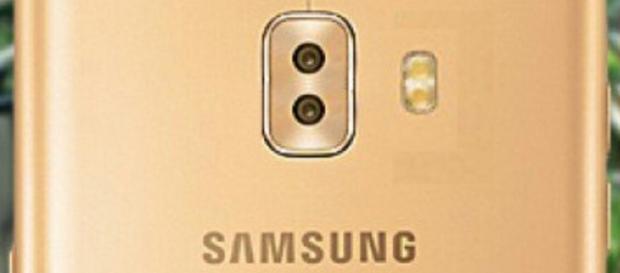 A couple of days ago, South Korean OEM Samsung confirmed that the company will be launching the Galaxy Note 8, the successor of the Note 7. Since the confirmation, rumors have been in the air that the device will be the first Samsung handset to sport the dual-camera setup. For the unfamiliar, in a dual-camera setup the rear panel of a smartphone consists of two sensors instead of one. The concept was first introduced in 2016 by Apple with the launch of its current flagship iPhone 7. Since then, this feature has become extremely popular with consumers and all OEMS are now trying to integrate it in their smartphones.
Many rumors have suggested that the upcoming Galaxy Note 8 would be featuring a dual-camera setup.
However, it now seems that the rumors may not be true as new images of the Galaxy C10 have surfaced online, showing the smartphone sporting the same. The images were first spotted on social media network Weibo, which is the Chinese equivalent of Twitter.
Galaxy C10 the first Samsung handset with dual camera?
Galaxy C10 has leaked online several times, but so far the renders of the device were not available. The latest leaked image of the Galaxy C10 show the smartphone sporting a Rose Gold color and shows off the rear side.
Contrary to all previous rumors, the leaked picture of the handset shows a Dual Camera that is vertically aligned. It is located on center of the smartphone. The LED flash is located in between the two cameras on the handset's rear. The cameras were placed just below the antennae and above the Samsung logo etched on the back.
The metal chassis of the smartphone has a matte look with a low luminosity. In addition to this, the power button is located on the right side of the smartphone. The volume control buttons are not visible.
Samsung jumps onto the bandwagon?
Several research firms and analysts state that it is unavoidable for Samsung to not incorporate the dual camera in its smartphones any longer. Daishin Securities analyst Park Kang-ho thinks that given that the major highlight of MWC was the dual-camera setup, and almost all manufacturers are going for the feature, it is high time for Samsung to do the same. The logic got further support from Techno Systems Research, which stated that the percentage of dual cameras in the smartphone market is expected to rise from 76 million units last year to 600 million units in the next three years.
It remains to be seen if the C10 will pip the Note 8 in the camera stakes.
Click to read more
and watch the video
or