Twitter's new 'Lite' version, 30 percent faster, ideal for little data users
Rate this title
Twitter Lite, a new faster mobile web version of Twitter for data-starved users developed with Google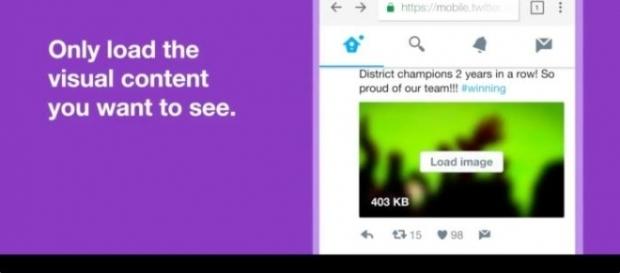 On WednesdayThe microblogging site, Twitter Inc. launched its new faster version for the Mobile Web titled Twitter Lite. It is a faster and light version of Twitter's mobile service that can work even without a good Internet connection. Twitter Lite is largely aimed at the people with little data space on their smartphones. Twitter hopes to glean new users in the emerging markets.
In the previous year, Skype, Facebook Messenger, and WhatsApp all strived hard to roll out video calls in the areas without broadband. It is now Twitter's turn to provide a streamlined mobile web version of its application. The application is made available from the mobile platform of Twitter.
Twitter Lite uses less than a megabyte and also sports a data saver mode that blurs images and videos until they are tapped. This mobile web version just takes a maximum of five seconds to load on 3G devices giving the user a rapid experience. Twitter Lite gives us a native app experience with all the specifications like notifications, direct messaging etc.
Similar to WhatsApp
Twitter Lite is not a stand-alone application and works through the web browser. The company claims that this application seems to be identical to WhatsApp and people will have a better user experience. Users will see the average data consumption go down 40 percent as it loads 30 percent faster.
This simplified version works on the slowest networks like 2G and therefore targets particularly the developing regions.
This new version of Twitter is available in 42 languages. "We are very proud to take this step," said Maya Hari, general manager for the Asia-Pacific region at Twitter. The company says it has partnered with Google to develop this application.
Twitter vs Twitter Lite
Twitter Lite is less data-intensive than its classic version and even has a data saver mode to reduce the data consumption by 70 percent (this mode allows for example to partially blocking the loading of Images). But despite its light weight, all its features, such as interactions with other users, sending tweets, private messages or accessing parameters, are retained.
Used on Chrome for Android, this version almost gives the user the impression of using a real application. Further, if you create a shortcut on the home screen of your phone, it will appear in the application drawer just like a native app. The user can also send push notifications or access to an offline mode to view the latest tweets and notifications.
Click to read more
and watch the video
or