Facebook adds more visual and artsy tools with Messenger Day
Rate this title
In addition to a new camera feature, friends are now sharing the good vibes with more visuals and more arts on Messenger.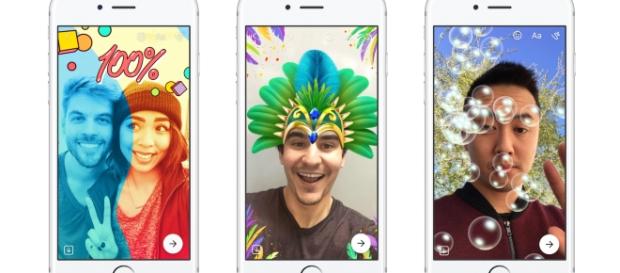 Ever since Facebook removed Facebook Messenger from Facebook's main features and turned it into a standalone app in 2014, the messaging platform has had numerous functionalities added. Last year, Facebook announced a major exciting feature was added—the new, fast camera. Now with Messenger day, Facebook lets your images stay for a whole day. Friends are now able to share videos, add visual tools to accelerate Good Vibes, and then share their day with friends in real-time.
This is My Day, how's yours?
With all the upgrades and additional visuals, the current Messenger today is almost unrecognizable to those who do not use the app on a day-to-day basis.
There's a new, faster camera, and now there's a palette icon by the shutter for you to add art and stickers to any text. The visual tools include all sorts of frames, masks, and effects for all sorts of occasions. With the Messenger Day, on top of all that, you get to add your camera art to your day by tapping on the "Add to your day" button on top of your inbox. This works for both a photo art and a video art, which will be visible for view for an entire 24 hours. Sharing your day is just as personal as your Facebook posts can be. You get to add exceptions and make it custom.
Cameras, not keyboards
As of December 15, at least 2.5 billion emojis, photos, stickers, and videos are being sent on a daily basis on Facebook Messenger. The Messenger team worked with artists and influencers all over the world for the visual customization tools that are now available on Messenger.
Their product manager for the Messenger App, Peter Martinazzi, wrote that the way people are using the camera now has "in some ways" replaced the keyboard. He said, "As more people use Messenger in their everyday lives, we wanted to make it faster, simpler and more fun to send photos and videos—so we built the new Messenger camera."
No more bland selfies now
No more plain selfies or boring texts with Messenger Day. Unless if that's what you want to share. When conversing with a friend on the Messenger app, what they choose to add to their day will also be visible to you. These daily achievements only last for 24 hours, so whatever you shared today won't be there after that. Stan Chudnovsky, the head of product for the chat app, said, "We love seeing how much fun people are having with Messenger's new visual tools, especially our most popular art and effects like floating hearts and recently, Mardi Gras frames."
Messenger's Stories feature is called Messenger Day. Innovation☝️https://t.co/eLHOQa38P6 pic.twitter.com/1YivwtqRe0

— Product Hunt (@ProductHunt) March 9, 2017
Click to read more
and watch the video
or