NFC technology offers promise as Visa and others evaluate a wearable payment ring that could replace your credit card or smartphone wallet.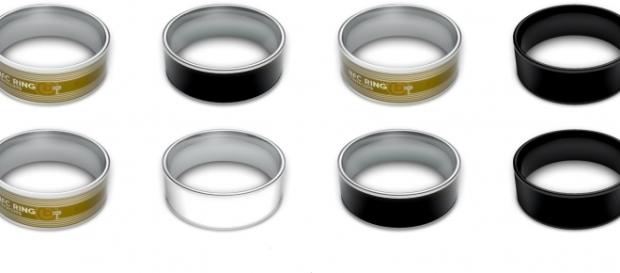 Who needs a mobile phone or credit card when you can pay for what you want with the sunglasses on your head or the ring on your finger? That's the premise of a group of technologists and companies who are beginning to introduce new ways to capitalize on contactless technology that's already found in many payment terminals throughout the world.
New payment terminals are NFC-enabled
Most of the point-of-sale (POS) terminals that now accept chip-enabled cards at retail locations in the U.S. include contactless or near field communication (NFC) technology as well. This allows a customer to simply wave or tap their NFC-equipped card or compatible smartphone near a terminal and the transaction is processed instantly.
But U.S. banks have not issued many contactless cards, and the slow adoption of smartphone payment apps (such as Apple Pay) or smartwatches with similar capability (like the Samsung Gear S3) have opened up a potential market opportunity for the right device that consumers might embrace. Enter the NFC Ring. The Contactless Payment ring is the brainchild of John McLear, a U.K.-based open source advocate who has developed a number of web apps used by Mozilla and Microsoft. He launched NFC Ring through a Kickstarter campaign in 2013 and received additional funding from Matt Mullenweg, the developer of WordPress.
The waterproof ring is a light, innocuous-looking piece of jewelry that contains an embedded chip to securely store and transact payment information when tapped on a contactless terminal.
It does not require recharging since there is no battery. McLear and his team hope to see widespread adoption of his ring as NFC technology expands. "We expect to see a huge roll out in the U.S. of contactless technology," said McLear, in an interview for this story.
Creating a secure microcontroller for the ring that could be speedily read at a reasonable distance by a payment terminal was a challenge because of the small surface area and shape. The chip is supplied by Infineon and, according to the firm's Chris Shire, the technology "is the only solution available on the market that complies with the timing requirements of a few milliseconds."
But what if the ring falls off your finger? According to McLear, the ring can be immediately disabled like a standard credit card. And there is no credit card number engraved on the ring itself.
Ring could be used for more than payments
Additional technology is provided by Gemalto, a digital security company. According to Jack Jania, a senior vice president with Gemalto, wearable technology like the NFC Ring, has the potential to become popular in the mass transit field.
"We're already seeing it move beyond payments," said Jania. "I see wearables as the next new thing in transportation ticketing."
Although McLear's website is taking pre-orders, the ring has still not been rolled out yet by credit card issuers for mass adoption. Visa, who actually piloted the NFC Ring among athletes during the Olympic Games last summer in Rio, has been reluctant to publicly commit to a time frame when cardholders might be able to start using it to make actual purchases. Contacted directly for this story, Visa spokesperson Kryssa Guntrum would only say that that "Visa payment ring is currently a prototype we're testing with a limited number of Team Visa influencers."
Visa clearly has an interest in the contactless payment space. Just last month, the company announced the pilot of WaveShades, contactless payment sunglasses for customers in Australia. The glasses use a secure payment chip embedded in the frame.
McLear remains optimistic that Visa and other credit card companies will embrace his technology as contactless terminals become more widely used throughout the U.S. "I'll be very surprised if we don't have one million rings on people's hands in the near future," said McLear. Soon, you may no longer have to bring your wallet or purse for a night on the town, because you'll be wearing all you need.
Click to read more
and watch the video
or