ALCS, NLCS schedules 2018: World Series Odds update, TV start times & prediction
The AL and NL Pennants will be decided soon as championship play kicks off on Friday, October 12.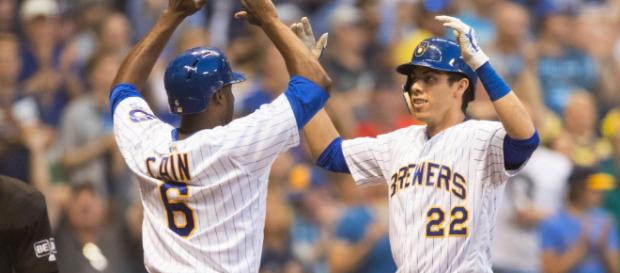 And then there were four. The 2018 MLB season is down to their version of the final four as baseball fans prepare for the ALCS and NLCS series, which both begin later this week. In the American League, the Houston Astros will face the Boston Red Sox while the National League pennant will be won by either the LA Dodgers or Milwaukee Brewers.
Brewing Brew Crew
Yes, the Milwaukee Brewers (not the early season heavy favorite Chicago Cubs, St. Louis Cardinals or Washington Nationals) will be hosting Game 1 of the National League championship series this Friday evening, October, 12, from Miller Park in Milwaukee, Wisconsin.
According to an SB Nation report, first pitch for Game 1 of the NLCS is expected to take place just after 8:00 PM ET. The Brewers are definitely the surprise team of 2018 up to this point, but now that they are here the big question is do they have what it takes to win eight more games and shock the world by winning the 2018 Fall Classic?
That answer is yes. The Brewers are on a roll. First, they won Game 163 in Chicago to determine the winner of the National League Central division, then they swept away the Colorado Rockies in three straight to advance to the NLCS.
One more huge reason the Brew Crew could be the last team standing? No one outside of the Milwaukee locker room believes the Brewers will - and motivation is always a big factor.
With sluggers like Christian Yelich, Jesus Aguilar, Lorenzo Cain, and Ryan Braun, this team has plenty of firepower. Don't sleep on these guys!
World Series odds, prediction
To no one's surprise, the Boston Red Sox and Houston Astros are the huge favorites to win the World Series. The BoSox and Astros are both listed at +300 or 3/1 according to the latest update from Oddsshark.
The LA Dodgers are set at +350 and the Brewers at +500.
Most MLB experts and fans alike believe that whoever wins the series between the Red Sox and Astros will go on to win the World Series. I do not. I am riding the hot horse and underdog Milwaukee Brewers all the way to the championship.
Below is all the complete schedule for each championship series, Vegas odds, and predictions.
World Series Odds
Boston +300
Houston +300
Dodgers +350
Brewers +500
World Series winner -- Milwaukee Brewers
ALCS, NLCS Schedules
Friday, Oct.
12 -- NLCS Game 1: LA Dodgers at Milwaukee Brewers, 8:00 PM ET -- FS1
Saturday, Oct. 13
NLCS Game 2: LA Dodgers at Milwaukee Brewers, 4:00 PM -- FOX
ALCS Game 1: Houston Astros at Boston Red Sox, 8:00 PM -- TBS
Sunday, Oct. 14
ALCS Game 2: Houston Astros at Boston Red Sox, 7:00 PM -- TBS
Monday, Oct. 15
NLCS Game 3: Milwaukee Brewers at LA Dodgers, 7:30 PM -- FS1
Tuesday, Oct. 16
ALCS Game 3: Boston Red Sox at Houston Astros, 5:00 PM -- TBS
NLCS Game 4: Milwaukee Brewers at LA Dodgers, 9:00 PM -- FS1
Wednesday, Oct. 17
NLCS Game 5*: Milwaukee Brewers at LA Dodgers, 5:00 PM -- FS1
ALCS Game 4: Boston Red Sox at Houston Astros, 8:30 PM -- TBS
Thursday, Oct. 18
ALCS Game 5*: Boston Red Sox at Houston Astros, 8:00 PM -- TBS
Friday, Oct. 19
NLCS Game 6*: LA Dodgers at Milwaukee Brewers 8:30 PM -- FS1
Saturday, Oct. 20
ALCS Game 6*: Houston Astros at Boston Red Sox, 5:00 PM -- TBS
NLCS Game 7*: LA Dodgers at Milwaukee Brewers 9:00 PM -- FS1
Sunday, Oct. 21
ALCS Game 7*: Houston Astros at Boston Red Sox, 7:30 PM -- TBS
This news article has been verified through:
https://www.sbnation.com/mlb/2018/10/9/17953772/mlb-playoffs-game-times-league-championship-series-2018
https://www.oddsshark.com/mlb/mlb-odds-world-series-futures