Tobias Harris leads Pistons past Hornets 102-90
Detroit and Charlotte got their seasons started with a matchup Wednesday night.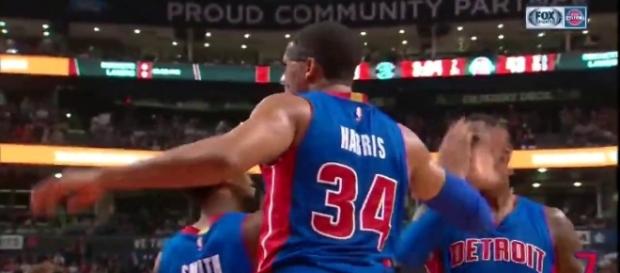 Wednesday night featured a variety of games on the NBA regular season's second day. Among them was a battle between two teams that could be contending in the postseason. The Detroit Pistons hosted the Charlotte Hornets with both teams showing off some of their newest personnel. For the home team, it was guard Avery Bradley, while big man Dwight Howard was on the court for the visitors. Here's a look at the Hornets vs. Pistons recap including tonight's top performers, game stats, and a look at what's up next for these two teams.
NBA game recap
In tonight's game, Detroit opened with a 29-27 first quarter and then hit the throttle in the second quarter. By halftime, they had a 56-45 lead. Charlotte was unable to outscore the home team in the second half as Detroit had a 26-25 third quarter and the fourth was a 20-20 finish. The Pistons ended with a 12-point win to start the season undefeated.
Leading the way for the Detroit Pistons was an unlikely hero was small forward Tobias Harris was 11-for-18 and finished with 27 points to go with 10 rebounds.
Former Celtics star Avery Bradley had 15 points on 7-for-10 shooting, while Andre Drummond had 13 rebounds, four assists, and eight points. Reggie Jackson finished with 13 points, eight assists, and five boards for the night.
For the Charlotte Hornets, Kemba Walker had 24 points on 6-for-13 shooting in the losing effort. Walker also had six rebounds and four assists. The newest member of the team, big man Dwight Howard, ended up with 10 points and 15 rebounds for the double-double. Jeremy Lamb was the only other Charlotte Hornets player in double-digits as he finished with 15 points to go with four rebounds.
Rookie Malik Monk had a lackluster start to his season, playing 21 minutes but going just one-for-9 and ending up with three points in his debut.
For tonight's game, the Detroit Pistons hit their field goals at a rate of 42.7 percent overall and 34.6 percent from downtown. Charlotte was able to hit 39.7 percent of their shots and 30 percent of their threes. The two teams each snatched 47 rebounds for the night. However, the Pistons limited their turnovers to just nine compared to 17 for the visitors.
Standings & what's next
The Charlotte Hornets start their NBA season with an 0-1 record overall and 0-1 on the road. The Hornets try to bounce back on Friday night as they'll have their home opener against the Atlanta Hawks at 7 p.m. Eastern Time.
Tonight's win gives the Detroit Pistons a 1-0 start to the season. That means they'll be at the top of the Central division, at least for a night. Their next game is on Friday night at 7 PM Eastern Time when they visit the Washington Wizards in the nation's capital.
Click to read more
You will watch a video to read the news
or