San Antonio Spurs defeat the Denver Nuggets in NBA preseason game
The Denver Nuggets taste their first preseason defeat at the hands of the San Antonio Spurs.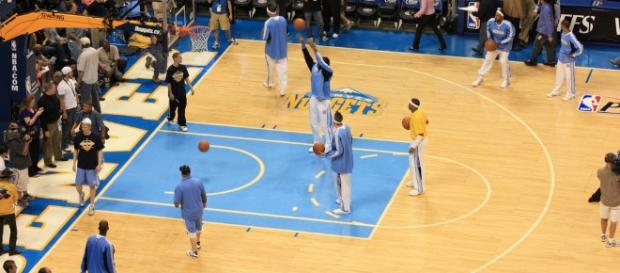 NBA.com has reported that the San Antonio Spurs defeated the Denver Nuggets with the score 122-100. This marks Denver's first preseason loss. The San Antonio Spurs had an incredible game, they shot 57 percent from the field and made 57.1 percent from beyond the arc. Bryn Forbes and LaMarcus Aldridge led the Spurs in points with 20 and 21, respectively. Kawhi Leonard, Pau Gasol, Patty Mills, Kyle Anderson and Tony Parker did not play last night for the Spurs.
Jokic continues to impress
Nikola Jokic is showing major improvements in his game compared to last year.
He has been looking very good in Denver's preseason games. Last night against the Spurs, he contributed 19 points, seven rebounds, four assists, one steal, and one block. He shot 53.8 percent from the field making seven of his 13 shot attempts and making all of his four free throw shots. Denver is looking really scary going into this upcoming season. Despite the west being very tough this upcoming NBA season, the Denver Nuggets have shown major improvements in their gameplay.
Will Barton sinks four three-pointers
Will Barton shot the ball very well last night against the San Antonio Spurs.
He contributed 16 points, one rebound, three assists, three steals, and two blocks. He shot 54.5 percent from the field and made four of his six three-point shots. Denver Nuggets fans are surely very excited for the upcoming season with how good their team is looking in the preseason games.
Aldridge scores a team-high 21 points
LaMarcus Aldridge had an amazing last night against the Denver Nuggets. He contributed 21 points, eight rebounds, six assists, and one block. He made nine of his 16 field goal attempts along with one three-pointer.
LaMarcus Aldridge has to look to be more aggressive this upcoming NBA season, especially with Tony Parker still out with an injury.
Bryn Forbes scores 20 points
Bryn Forbes had a solid game in last night's blowout win against Denver. He recorded 20 points and one assist while shooting 63.6 percent from the field and making four of his five three-pointers. If Bryn Forbes can continue to improve and play well, he may have a chance of getting some playing time this upcoming NBA season.
Matt Costello grabs 12 rebounds
With Pau Gasol not playing, Matt Costello had some playing time last night against the Denver Nuggets.
He contributed five points, 12 rebounds, one steal, and two blocks. He made all of his two field goal attempts and made one of his two free throw attempts. The San Antonio Spurs have a lot of new and young guys going into the season. With the west being very stacked, the entire Spurs roster must have a collective effort to maintain a good record in the west.
Click to read more
You will watch a video to read the news
or