NBA recap: Charlotte Hornets lose against the Detroit Pistons
Piston's Tobia Harris led the team in winning against the Charlotte Hornets.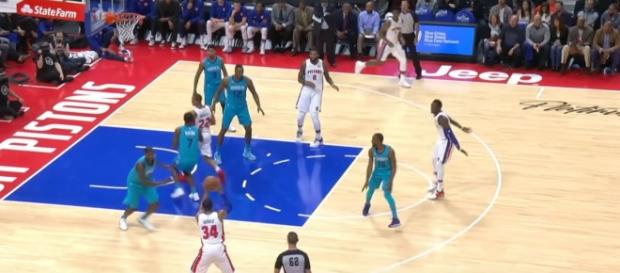 The Detroit Pistons [VIDEO] beat the Charlotte Hornets 102-90. The Pistons and Charlotte opened the season in Little Caesars Arena, a new facility that drew them downtown for the first time after almost 40 years. Top scorers for the recent game are Kemba Walker for Hornets and Tobias Harris for the Pistons. Harris led the Pistons' victory with 27 points, 10 rebounds, and three assists. Walker, on the other hand, got the team-high score of 24 points, six rebounds, and four assists. The Pistons took the lead in the first three-quarters of the game, with 12 points leading. The Hornets were able to bounce back on the fourth quarter, but it was not enough to overcome the Pistons.
Jeremy Lamb scored 15 points
Jeremy Lamb played a decent game on Wednesday night with 15 points, four rebounds, two assists, and one steal across 28 minutes floor time. Lamb was seen extending run in the absence of Michael Kidd-Gilchrist and Nicolas Batum. Nicolas was reported by #NBA.com to be sidelined until December to recover from his elbow injury. While Batum is out, Lamb is the most likely candidate to continue starting in his spot.
In June 2015, Lamb was traded to the Hornets in exchange for Luke Ridnour. This move reunited him with his former UConn teammate Kemba Walker. Since his debut in the NBA league, he averaged eight points, 0.3 blocks, 0.5 steals, and 1.1 assists.
Avery Bradley played a decent game
Avery Bradley seemed to have found his role with Pistons during the preseason.
Bradley finished the game on Wednesday and tallied 15 points, two rebounds, and one assist. Bradley is expected to play better after showing a decent performance in the last game. However, given Bradley's injury history, it is still likely that Piston's will limit his minutes on the upcoming campaigns.
Dwight Howard scored double-double
Although it was the usual game for Howard, it is still good to see him get off to a good start with his new team. #Dwight Howard recorded 17 games last season, with at least 15 rebounds. Next to Kemba Walker and Jeremy Lamb, Howard showed a well-played performance in Wednesday's defeat against the Pistons. Howard scored 10 points, 15 rebounds, two blocks, and one assist. The 25-year-old veteran went 4-of-10 from the field, 0-of-3 from the three-point line, and 7-of-8 from the free throw line. With Howard's recent performance, it is fair to expect more of this kind of effort from Howard periodically throughout the NBA season. #Detroit Pistons