Based on the latest video footage, Spurs' Kawhi Leonard still far from return
Leonard was spotted limping and in discomfort while boarding the team's chartered flight.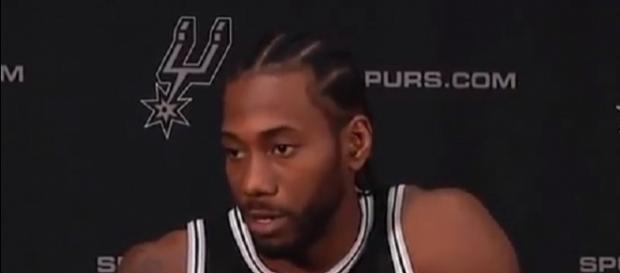 #Kawhi Leonard's return to the #San Antonio Spurs lineup might not happen anytime soon as he was spotted limping and in discomfort while boarding the team's chartered flight to Chicago to play the Bulls on Saturday. The video was posted by KSAT 12 sports anchor Larry Ramirez on his Twitter account:
Kawhi Leonard boarding the #Spurs charter flight for Chicago. #KSATsports #KSATnews pic.twitter.com/Z3lgfQOtMc

— Larry Ramirez (@LRam2) October 20, 2017
Leonard was noticeably limping and in pain while climbing up the stairs. Leonard, a two-time Defensive Player of the Year and a finalist for the MVP trophy last season, missed the entire preseason due to what the team called "right quadriceps tendinopathy."
When Spurs head coach Gregg Popovich announced that Leonard won't play in their opener against the Minnesota Timberwolves, he did not give a timetable for his superstar's return.
Popovich stressed that he will play Leonard once his superstar is ready to return to action. Last season, Leonard averaged 25.5 points, 5.8 boards and 3.5 assists per game, leading the Spurs to the Western Conference Finals against the Golden State Warriors. He suffered an ankle injury in Game 1 of the West Finals, forcing him to sit the next three games, thus allowing the Warriors to walk away with a sweep.
Spurs dispose of Wolves in season opener
Days after signing a three-year, $72.3 million extension [VIDEO], LaMarcus Aldridge tallied a double-double with 25 points and 10 boards to lift the Spurs to a 107-99 triumph over the Timberwolves in their season-opener at the AT&T Center. Danny Green added 17 points, point guard Dejounte Murray had 16, Kyle Anderson chipped in 12 points and nine boards, while new acquisition Rudy Gay contributed 14 points off the bench as the Spurs won their 19th season opener in 21 years under Popovich.
The win was the Spurs' 12th straight over the Timberwolves since 2013.
Spurs face Bulls on Sunday
The Spurs are expected to have an easy time with the Bulls, who lost their opener against the Toronto Raptors, 117-100. The Bulls will play the Spurs without Nikola Mirotic, Bobby Portis, and possibly Denzel Valentine. Mirotic was hospitalized due to a broken jaw after getting into a fight with Portis, who was then suspended for eight games. According to ESPN, Mirotic will be out four to six weeks due to the injury. Nick Friedell of ESPN reported that Portis apologized to the team for the incident. Valentine, for his part, missed practice due to soreness in his knee and will be re-evaluated Sunday. Against the Raptors, center Robin Lopez scored 18 points, rookie Lauri Markkanen added 17, Justin Holiday had 15, and Valentine tallied 12 points off the bench for the Bulls. #Gregg Popovich