All of the moves at the NFL trade deadline
Major moves took place as players like Jimmy Garoppolo and Jay Ajayi were traded.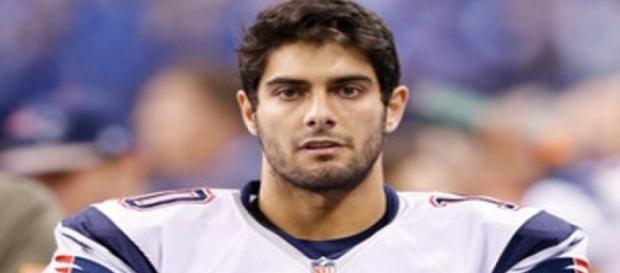 Tuesday is the last day that teams can make trades, as the NFL trade deadline.is at 4 p.m. ET. Yesterday already saw two major trades take place as the Houston Texans moved on from Dune Brown, while the New England Patriots parted with Tom Brady's supposed heir apparent in Jimmy Garoppolo. An even more stunning move took place today, as the Miami Dolphins parted with Jay Ajayi.
Duane Brown
On Monday, the Houston Texans traded left tackle Duane Brown to the Seattle Seahawks. In return, they received a 2018 fifth-round pick, a 2019 second-round pick and cornerback Jeremy Lane.
This move helps the Seahawks as their offensive line, which was putrid going into the season, has suffered from injuries. They were willing to move a lot to get the 32-year-old, who is a three-time Pro Bowler.
Houston has now moved on from their longest-tenured player, who had just come back to the team after his long contract holdout. In return, they get a key draft pick in 2019 and Lane, who was the Seahawks nickel corner last season before losing his job this year to rookie Shaquill Griffin.
Duane Brown got to play in Seattle on Sunday. Now he goes back to Seattle, traded there from Houston.

— Adam Schefter (@AdamSchefter) October 30, 2017
Full trade: Seahawks traded CB Jeremy Lane, a 2018 5th-round pick and a 2019 second-round pick to Texans for OT Duane Brown, per sources.

— Adam Schefter (@AdamSchefter) October 30, 2017
Since entering the league in 2012, Russell Wilson has been sacked (221 times) and hit (511 times) more than any other QB in the NFL https://t.co/qG6IEdvK9l

— NFL Research (@NFLResearch) October 30, 2017
Jimmy Garoppolo
Yesterday also saw the New England Patriots trade backup quarterback Jimmy Garoppolo to the San Francisco 49ers in exchange for their 2018 second-round pick.
Following an offseason of speculation, they finally moved the coveted backup now before he is set to become a free agent. The winless 49ers were not thrilled with free-agent acquisition Brian Hoyer or third-round pick CJ Beathard, so they took a risk now to get their quarterback of the future instead of doing so in the draft.
The trade has now left the Patriots, without a backup to Tom Brady, as they traded third-string quarterback Jacoby Brissett in September. However, the 49ers released the aforementioned Hoyer following the trade and he has past experience with the team and their offensive system.
Major QB shakeup: 49ers trading 2018 2nd-round draft pick to New England for Patriots' QB Jimmy Garoppolo, sources tell ESPN.

— Adam Schefter (@AdamSchefter) October 31, 2017
When #Browns made an offer for Jimmy Garoppolo during the draft, they didn't offer a 1st. Just a 2nd & change. Pats wait & take this deal.

— Ian Rapoport (@RapSheet) October 31, 2017
And another shoe drops: 49ers are releasing QB Brian Hoyer, per source.

— Adam Schefter (@AdamSchefter) October 31, 2017
The #49ers originally included QB Brian Hoyer in the trade to the #Patriots but he was taken out for comp. pick reasons. Now released.

— Ian Rapoport (@RapSheet) October 31, 2017
The #49ers will try to extend QB Jimmy Garoppolo, but an extension was not part of the deal, I'm told. Nothing is close or imminent.

— Ian Rapoport (@RapSheet) October 31, 2017
Trading for a backup guarantees you:
Older player.
More expensive player.
Shorter contract control.
All the unknowns of drafting a rookie.

— Cian Fahey (@Cianaf) October 31, 2017
Jay Ajayi
On Tuesday morning the Miami Dolphins made a surprising move, trading starting running back Jay Ajayi to the Philadelphia Eagles in exchange for a 2018 fourth-round pick.
For the Eagles, this move is a no-brainer, as Ajayi is only 24 years old and signed through 2018 on a cheap rookie deal after being drafted in the fifth-round in 2015. Last season he rushed for 1,278 yards and managed eight touchdowns while being selected to the Pro Bowl.
For the Dolphins head coach Adam Gase has been publicly frustrated with Ajayi this season for trying too hard to seek out big plays. Ajayi has struggled this season, recording 465 yards and no touchdowns in seven games. While some of this is on the offensive line, his yards per carry have gone from 4.9 last year to 3.4 this season. ESPN's Jeff Darlington also reported that the team is concerned about his long-term health, as all of this factored into the team's decision.
Dolphins traded RB Jay Ajayi to Eagles for a fourth-round pick, per source.

— Adam Schefter (@AdamSchefter) October 31, 2017
When you hear a coach like Gase publicly rip his team...a message is usually sent to prove he meant it. #TradeDeadline

— Chris Mortensen (@mortreport) October 31, 2017
Something to keep in mind about Ajayi trade: Dolphins don't believe he has much left in his knees. Longer-term play. Something to watch for.

— Jeff Darlington (@JeffDarlington) October 31, 2017
Jay Ajayi: 1 of 3 players with over 1,000 rushing yds after contact since 2016 (Jordan Howard, Ajayi, Ezekiel Elliott)@Eagles @JayTrain23

— NFL Research (@NFLResearch) October 31, 2017
Rashard Robinson
The San Francisco 49ers traded second-year cornerback Rashard Robinson to the New York Jets for a 2018 fifth-round pick. The 22-year old Robinson was drafted in the fourth-round out of LSU and has started 13 games for the team, including seven this season. He has 27 total tackles, one interception, one forced fumble and one fumble recovery this season.
Last week, Robinson was demoted from the starting lineup, as the 49ers were not happy with his process this season. In making the trade, the Jets front office believes that they are acquiring a young player who has room to grow into a key piece of their defense.
Source: The #Jets are trading for #49ers CB Rashard Robinson.

— Ian Rapoport (@RapSheet) October 31, 2017
Sounds like 49ers got a 5th for Rashard Robinson.

— Peter Schrager (@PSchrags) October 31, 2017
After telling reporters he didn't anticipate any trades, Bowles found out at end of presser they had traded for CB Rashard Robinson. #Jets

— Rich Cimini (@RichCimini) October 31, 2017
Rashard Robinson has allowed a 47.6% catch rate over the last 2 seasons, 2nd best for CBs thrown at 80+ times

— Nathan Jahnke (@PFF_NateJahnke) October 31, 2017
Kelvin Benjamin
The Carolina Panthers traded top wide receiver Kelvin Benjamin to the Buffalo Bills in exchange for 2018 third and seventh-round picks. This moves comes as the Panthers offense has been up and down this season, so it seems like an odd time to trade their top receiver, especially after they picked up his fifth-year option in May. However, Benjamin came into camp overweight this offseason and maybe the team did not want to pay him so they got what they could for him.
Buffalo trading for Benjamin should help their passing offense, which has been bad after losing Robert Woods in free agency and trading Sammy Watkins. Free agent acquisition Andre Holmes and second-round pick Zay Jones have not cut it, especially after starting tight end Charles Clay suffered a torn meniscus earlier this month.
Panthers traded WR Kelvin Benjamin to Buffalo for 3rd and 7th round picks, per source. Benjamin rejoins HC Sean McDermott, GM Brandon Beane.

— Adam Schefter (@AdamSchefter) October 31, 2017
Panthers picked up the 5h-yr option on Kelvin Benjamin, making his cap hit $8,459,000 next season if #Bills keep him. Only $1M base this yr.

— Nick Veronica (@NickVeronica) October 31, 2017
#Panthers could not have been happy with Kelvin Benjamin showing up fat in the off-season [reportedly 275 pounds]. #Bills get #1 WR now.

— Dov Kleiman (@NFL_DovKleiman) October 31, 2017
Bills WRs so far this season:
Receptions: 45 (fewest in NFL)
Receiving yards: 594 (fewest in NFL)

Enter, Kelvin Benjamin.

— Field Yates (@FieldYates) October 31, 2017
Click to read more
You will watch a video to read the news
or