WWE 'Raw' results for September 11 include John Cena vs. Braun Strowman
Roman Reigns, John Cena, and Brock Lesnar were all part of the latest Monday night show.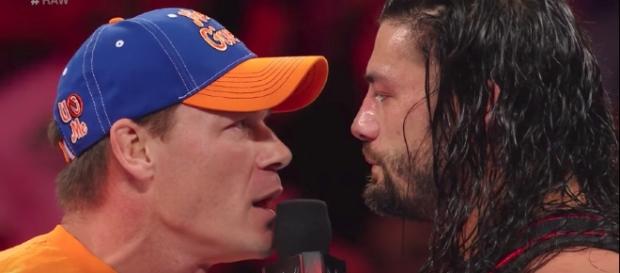 The latest episode of WWE "Raw" took place on Monday, September 11th, 2017 from Anaheim, California with less than two weeks until the "No Mercy" pay-per-view. On the latest show, several big matches took place including Roman Reigns vs. Jason Jordan and John Cena vs. Braun Strowman. Here are all of the latest results for the new episode of "Monday Night Raw."
Match results
Roman Reigns defeated Jason Jordan. Afterwards, John Cena arrived to the ring to cut a promo.
The two went back and forth in trash talk, with Reigns bringing up how Cena is a bad actor, and Cena reminding everyone of Roman's drug test issue from the past.
Sasha Banks defeated Emma via submission.
Emma went for a move with Sasha on the mat, but Sasha surprised her and put her in the Bank Statement. Emma quickly tapped out. Alexa Bliss and Nia Jax watched, but were quiet throughout the match.
Paul Heyman and Brock Lesnar came out to cut a promo about Braun Strowman and "No Mercy." Heyman closed it out by calling out Strowman. He stepped aside, and after a few moments, Strowman's music hit as he came from backstage and marched to the ring. Braun got inside to battle with Brock. They exchanged punches with Brock hitting a German Suplex. Braun got right back up and hit a powerslam on Brock to lay him out. Braun picked up the WWE Universal title and held it a bit before laying it on top of Brock.
Bray Wyatt defeated Goldust via pinfall. Goldust had a bit of an advantage when things went to the outside.
However, he tossed Bray back in and Wyatt was able to punch him on the apron before shoving him into the ringpost. Back in the ring, Wyatt hit Sister Abigail quickly for the win. Post-match, he knelt down next to Goldust and pulled a cloth out to wipe off Goldust's face paint. He yelled at the crowd "He's just a man you idiots!" Finn Balor rushed to the ring and Bray slid out the other side to go up the ramp. Finn taunted him from in the ring as Bray yelled at him from the ramp.
Braun Strowman completely manhandled John Cena in their matchup. Eventually, Strowman tossed Cena into the steel steps outside the ring. Later, Strowman brought half of the steps into the ring and then powerslammed Cena on top of them. That caused the referee to call for the bell, disqualifying Strowman. He stood on top of the steps to celebrate the destruction by yelling out as he raised his arms. Backstage, Roman Reigns was shown watching on a monitor and smirked about it.
Main event
Dean Ambrose and Seth Rollins had to find themselves tag team partners due to the fact Luke Anderson, Karl Gallows, Sheamus, and Cesaro attacked the tag team champions.
After the tag team champs made their entrances, they waited for a few moments and The Hardy Boyz arrived out to the stage. All four men stormed down the ramp and got into the ring to start off the match with a fury.
It's never too late for a POETRY in MAYHEM lesson! Isn't that right, @JEFFHARDYBRAND? #RAW @MATTHARDYBRAND @WWERollins @TheDeanAmbrose pic.twitter.com/2tpoGCUTHk

— WWE (@WWE) September 12, 2017
The action went back and forth throughout with the competitors working a strategy to isolate Dean Ambrose. They knocked all of his other tag partners on the outside or roughed them up. That left Ambrose trying to fight off the heels on his own for a bit. Ambrose had several attempts and eventually made a hot tag.
The action broke down late with Sheamus and Cesaro deciding to leave Gallows and Anderson to fend for themselves. As Sheamus and Cesaro went up the ramp, Matt and Jeff tried to tell them to get back to the match. Meanwhile, in the ring, Ambrose and Rollins teamed up against Karl Anderson. Ambrose hit Dirty Deeds and Rollins took a pinfall for the win. The tag team champs celebrated with the Hardys as WWE "Raw" went off the air.
Click to read more
and watch the video
or