Green Bay Packers: Aaron Rodgers' insane statistic still in tact
The Packers' quarterback has done something only once in his career and that's a good thing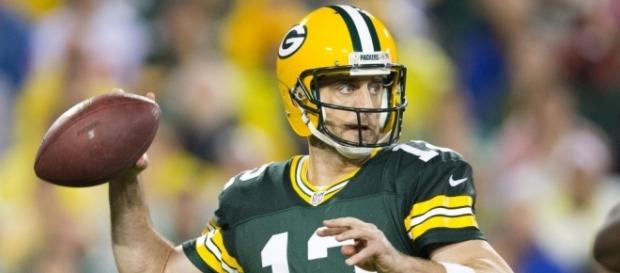 There's very little doubt that when #Green Bay Packers quarterback #Aaron Rodgers retires, he's headed to the Hall of Fame. When looking at his career statistics, there are all kinds of numbers that prove the argument. One particular statistic is largely overlooked when talking about his accomplishments but it's pretty indicative of just how good he's been over the course of his career.
Rodgers hasn't been immune to throwing interceptions. Over the course of his career, he's thrown 73 of them. What Rodgers has almost never done, is had an interception taken back for a touchdown. As ESPN points out, Rodgers has still only had one interception over the course of his career taken back to the house.
Packers quarterback almost had his second
Sometimes, the Green Bay Packers quarterback has gotten a little help when it comes to keeping opponents from returning his interceptions all the way. In week one of the 2017 season, it looked like the Seahawks were going to be scoring a defensive touchdown. Seahawks defensive tackle Nazair Jones took a Rodgers interception back 64 yards for an apparent touchdown. In the end, the touchdown was wiped out by a penalty.
There have been other situations like that over the course of Rodgers' career. Penalties have played a part in making sure interceptions don't lead to points. At the same time, the fact that Rodgers makes many more good decisions than bad has meant that when he does make a mistake, it's rarely a crippling one.
Green Bay quarterback has thrown 5,294 passes
When you take a look at just how many passes Rodgers has thrown, almost 5,300 the fact that he only has 73 interceptions is impressive on its own.
Then you realize that of those 73 picks, just one has been returned for a TD and you have to do a bit of a double take.
The question now, is since the Green Bay Packers are clearly aware of the statistic, is it one that eventually changes the more it's focused on? Does Rodgers force a throw knowing he rarely gets picked and almost never has it returned for a TD? Considering just how good he is at football, that seems rather unlikely. At the same time, as the attention continues to be focused on what the Packers quarterback is doing when he drops back to pass, one has to wonder if this incredible streak is on its last legs. The only way we're going to knoew for sure is when we see how 2017 unfolds. Green Bay, for its part, seems to enjoy seeing if something changes. #NFL