Karolina Pliskova continues top-player-losing trend at WTA Toronto 2017
Pliskova is out of the Rogers Cup 2017 tournament, having fallen to Caroline Wozniacki in Toronto.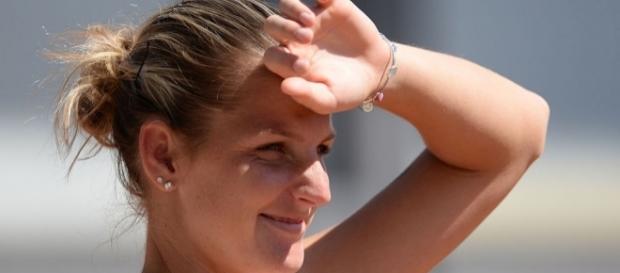 #Karolina Pliskova went out in the quarterfinals of the 2017 Rogers Cup on Friday. Caroline Wozniacki was the one that eliminated Pliskova from the draw, perhaps a not-too surprising a result. Wozniacki, who is a former World No. 1, has played well at this time of year before. Her trend of peaking in the American hard-court summer season may very well continue here in 2017. Meanwhile Pliskova's exit from the tournament continues a different trend in women's tennis, one that has seen the World No. 1, whoever it may be, fail to win a title for what has now been over a year of tournaments.
Kerber never won a title as No. 1
Angelique Kerber, who was No.
1 for the large majority of the weeks between the end of the 2016 US Open and the end of Wimbledon 2017, could be noted for her lengthy title drought. She won the US Open at Flushing Meadows to charge into top spot, but after that she failed to win a single tournament as the top-ranked player in the world. This was not because she was a closet champion in any way. After originally claiming the World No. 1, she entered numerous events on the women's tour.
But none of those events yielded a title for her. In 2016 after the US Open, she lost in Wuhan, Beijing, Hong Kong, and Singapore before the end of the year. She was not top ranked at all between the start of 2017 and the end up Wimbledon. However, Kerber still entered scores of tournaments when was ranked No. 1, and none of them ended with a title for her, certainly a fact that will become part of her career legacy.
Pliskova chips in a result toward the trend
Pliskova has only been No. 1 for about a month, but she is now 0-1 for tournament titles as the top-ranked player on tour. It's still much too early to talk about her being in any kind of drought as the top-ranked player. However, in the bigger picture, the WTA has failed to produce a dominant No. 1 for over a year now. The last time that a player won a title on tour as the No. 1 player in the world was in the summer of 2016. #Serena Williams won Wimbledon last year, defeating Kerber in the final. At that time the American was top ranked.
A short time later Serena would lose as the World No. 1 at the Rio Olympics. She would also lose as the World No. 1 at the US Open, at that point losing top spot to Kerber. In total, since Serena Williams won Wimbledon 2016, the World No. 1 player on the women's tour has featured in 17 tournaments including the Rogers Cup. Pliskova is now 0-1, Williams went 0-2, and Kerber went 0-14 in those events. At this time in women's tennis history, the top-ranked player just isn't someone that the other players are scared to face. #world no 1