Kansas City Chiefs running back Spencer Ware injured
The starter had to be carted off the field with a knee injury on Friday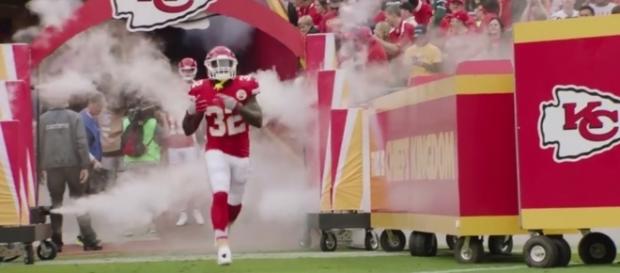 #Spencer Ware put a scare into #Kansas City Chiefs fans on Friday night. The team's starting running back went down during a meaningless preseason football game against the Seattle Seahawks. Due to the nature of the injury, fears of a torn ACL and a lost season immediately bubbled to the surface. With the game still ongoing, there hasn't been any diagnosis yet, leaving supporters in the lurch, though the team's running back situation could be much worse.
Ware goes down in a heap
The injury occurred during the first quarter. After grabbing a six-yard pass out of the backfield from Alex Smith, Ware went down with what appeared to be an injury to his right knee.
His condition wasn't immediately clear in the moments following the injury, though the Chiefs did state that he would not be returning to the field. That can't really be seen as a harbinger of anything, however, as no team is naive enough to risk further injury to a player during the preseason.
Up until he suffered his injury, Ware had recorded three rushes for 15 yards. He didn't receive all of the playing time out of the backfield, though. The Chiefs entered the preseason with preconceived notions that he was likely going to be team's primary running back this season. As the games and practices have worn on, however, rookie Kareem Hunt has been receiving more and more playing time; he was even making appearances early in Friday's game when the third preseason contest is usually reserved for starters in the first half.
How Chiefs will respond
With Hunt seeing his role increase more and more this summer, the transition from Ware should be smooth and easy, should the back miss an extended period of time. Hunt is still a rookie (and one coming from a mid-major school in Toledo), so there could be a learning curve when the games actually matter. The Chiefs already appear to believe in him as the true successor to Jamaal Charles, though.
Hunt was also gaining steam quickly in fantasy circles, so this injury should do nothing to stop that momentum. While Ware is big and physical, the team has some other talented backs behind him on the roster, including Hunt, Charcandrick West, and veteran C.J. Spiller, who is looking for redemption in a career that has not gone to plan. Injuries in the preseason are always bad, but it's possible that there is no team in the NFL better prepared for running back injuries than the Kansas City Chiefs. #Nfl Preseason