It may be time to move on from Eugenie Bouchard
The 23-year-old Canadian tennis player is currently ranked outside the top 70.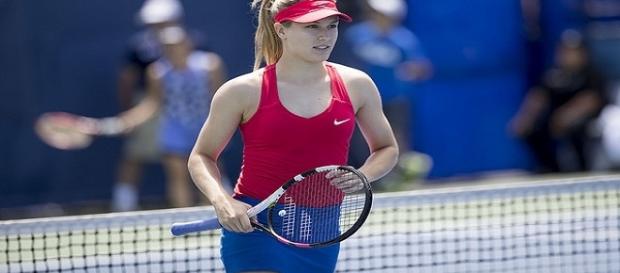 Eugenie Bouchard, 23, and once a protege of the WTA professional circuit, has prematurely ended another tournament. With the 2017 US OPen Tennis Championships looming ahead, there is some ongoing business happening at #New Haven in Connecticut. A Premier level event, it gathered a significant pile of names in its main draw. But, as it turned out, the opening stages saw many of the top-seeded players ousted. Mladenovic, Kvitova, and Vesnina are all out while the defending champion and the world No. 10 Agnieszka Radwanska refused to follow the trend, dispatching Eugenie Bouchard in straight sets. The 23-year-old Canadian is about to get lost in anonymity after producing almost zero impact on the WTA Tour.
Radwanska bids to defend the title, Bouchard trying to get some wheels.
At 28-years of age, Agnieszka Radwanska, the former world No. 2, and Wimbledon runner-up back in 2012 is into a new phase of her career. She is no longer a favorite of the biggest event, but she can still produce significant damage. Struggling with form throughout the first part of 2017, she got married earlier this summer and now is trying to get the job done at New Haven. Last year, the 28-year-old Pole went all the way in Connecticut defeating Elina Svitolina in the final. Receiving a bye in the opening round, Radwanska made no mistakes in her opening match against Bouchard.
Entering the encounter, Radwanska was leading by 3-0 in head to head stats, winning all their previous rubbers without dropping a set.
The immaculate status survived this encounter too. The opening set had a balanced first part only to see Bouchard losing her focus towards the end of it. Having a one set lead, Radwanska saw her confidence level growing with Bouchard struggling to keep up the pace. Despite a tense end of the second set, Radwanska went on, converting the fourth match point she had, sending Bouchard off.
Bouchard is a sad story of modern tennis
Three years ago, the young Canadian was at the center of the universe. The season of 2014 saw her ascending into the top 5 after a solid run including two Grand Slam semis and that Wimbledon final where she lost to Petra Kvitova. What should've been a success story turned into a nightmare with Bouchard losing touch with high-quality tennis. Currently ranked outside the top 70, she made two stops during the summer swing prior to Connecticut. At New Haven, she received a wild-card entry into the main draw. But, that may be over soon and she will have to work hard to improve her ranking if she wants to have a chance to avoid qualifying rounds in the future. The time of perks and gifts is about to end as Bouchard is still going down. #Eugenie Bouchard #Time To Move