Giancarlo Stanton hits 46th home run, Marlins defeat Phillies 12-8
Multiple home runs from Miami's stars led to a four run win on Tuesday.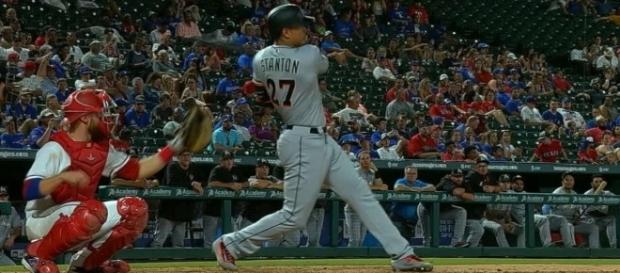 Among Tuesday's early games was a meeting between the Miami Marlins and Philadelphia Phillies. The game, which took place at Citizens Bank Park in Philly, featured a six-run seventh inning by the Marlins. Giancarlo Stanton, Ichiro Suzuki, and Marcell Ozuna were among those hitting home runs to help their team grab today's big win. Here's the latest Marlins vs. Phillies game recap including top stars, stats, a standings update, and what's next for these teams.
MLB game recap
For today's game, the Miami Marlins scored two runs through the first two innings to tie the game at 2-2. They'd add another in the fifth with the Phillies matching, but it was the seventh inning where Miami took off with the lead.
Ichiro Suzuki was the first to crank out a Home Run, as he scored Tomas Telis and Miguel Rojas. Several batters later, Giancarlo Stanton smashed out yet another home run, giving him 46 for his season. After Christian Yelich hit a single, it was Marcell Ozuna hitting a two-run home run, helping Miami score six runs in the inning. That gave the Marlins at 9-3 lead in the game.
.@Giancarlo818 becomes the first NL player this decade to hit 46 homers in a season. (2009: @RealPFielder28 – 46, @PujolsFive - 47) pic.twitter.com/aBXomkySiY

— MLB Stat of the Day (@MLBStatoftheDay) August 22, 2017
The Philadelphia Phillies would answer as best they could with a Maikel Franco sacrifice fly to score Joseph in the seventh and a Hernandez home run in the eighth. However, at the top of the ninth Miami's Realmuto blasted a three-run shot to score Yelich and Ozuna.
That gave Miami the lead for good, despite the Phillies answering with three runs in the bottom of the ninth.
For the game, Philadelphia got two RBIs from Rhys Hoskins as well as two hits apiece from Tommy Joseph and Hyun Soo Kim. Joseph hit his 17th home run of the season in the game, while Hoskins had his sixth and Rupp got his 13th.
Picking up today's win was Dan Straily who is now 8-8. Straily went six innings, striking out 10 batters and giving up just two hits for three runs. On the losing side was Aaron Nola (9-9) for the Phillies. He gave up seven runs over 6.1 innings but still tallied seven strikeouts for the day's work.
Standings & what's next
The Miami Marlins have now moved to 61-62 overall and 29-33 away for their season. They were scheduled for a double-header against the Phillies with the second game arriving at 7:50 p.m. Eastern Time on Tuesday evening. Miami is currently on the hunt for an MLB Wild Card spot but is six games back from the Colorado Rockies and Arizona Diamondbacks for one of the two spots. Milwaukee and St. Louis are right above the Marlins in the chase.
With today's loss, the Philadelphia Phillies have dropped to 45-78 overall and 24-32 at home. They'll try to get back on track with their next meeting against the Marlins on Tuesday night at 7:50 p.m. Eastern Time.
Click to read more
and watch the video
or